Isolation and Identification of Bacteria found in the milt of cultured Clarias gariepinus
Abstract
Bacteria identification in fish is important; hence it provides update information on emerging and existing organisms thereby enriching the gene bank on fish disease. This study investigated bacteria associated with milt in cultured samples of African catfish- Clarias gariepinus. Catfish broodstock were collected from private Fish Farm in Ogun State, Nigeria. Fish samples were taken to the Microbiology laboratory, Federal University of Agriculture, Abeokuta Ogun State for milt microbial analyses, and amplicon were taken to International Institute of Tropical Agriculture, Ibadan for molecular characterization. Bio-edit was use for importing and mining nucleotide sequences into gene bank. The results revealed that the following bacterial organisms were present in the milt of Clarias gariepinus: Aeromonas caviae, Proteus mirabilis, Serratia rubidaea, Pseudomonas mosselii, Acinetobacter soli and Klebsiella variicola. The Basic Local Alignment Search Tools revealed the percentage similarity ranging from 86- 97.04% and their accession numbers. These bacteria indicated high levels of faecal contamination in the environment. In conclusion, bacteria were found in the milt of cultured catfish and are capable of being pathogenic to humans and may increase the vertical transfer to fry during breeding and rearing stage. 
Keywords:
Milt, Clarias gariepinus, bacteria, molecular method.
References
[1] FAO. (2020). The State of World Fisheries and Aquaculture 2020. Sustainability in action. Rome. https://doi.org/10.4060/ca9229en.
[2] FAO (2014). Sustainable Fisheries and aquaculture for food security and nutrition. A report by the High level Panel of Experts on Food Security and Nutrition.
[3] Omitogun, O. G., Oyeleye, O.O., Betiku, C.O. Ojiokpota, C., Aladele, S.E. and Sarumi, M.B. (2006). Potentials of short-term cryopreserved sperm of the giant African catfish, Clariasgariepinus( Burchell, 1822) for aquaculture in Nigeria. In: Olakojo, S.A., Ogunbodede, B.A. and Akande, S.R (Eds) Proceedings of the 31stAnnual Conference of the Genetic Society of Nigeria pp. 141-146. NACGRAB, Moor Plantation, Ibadan, Nigeria. Nov. 6-9, ISSN 0189-9686.
[4] Karoui, S., Diaz, C., Serrano, M., Cue, R., Celorrio, I., and Carabano, M.J. (2011). Time trends, environmental factors and genetic basis of semen traits collected in Holstein bulls under commercial conditions. Animal Reproduction Science, 124:28 -38.
[5] Zohar, Y., Muñoz-Cueto. J.A., Elizur, A., and Kah, O. (2010). Neuroendocrinology of reproduction in teleost fish. General Comparative Endocrinology, 165: 438–455.
[6] Fauvel, R.L., Holcomb, M., Robinson, M.L. and Cloud, J.G. (2002). Carbon dioxide and pH affect sperm motility of white sturgeon (Aspencer transmontanus). Journal of experimental biology, 205:2885-2890.
[7] Ochokwu, I.J., Apollos, T.G and Oshoke, J.O. (2015).Effect of Egg and Sperm Quality in Successful Fish Breeding. IOSR Journal of Agriculture and Veterinary Science (IOSRJAVS), 8(8V.II):48-57.
[8] Islam, M.S. and Akhter, T. (2011).Tale of Fish Sperm and Factors Affecting Sperm Motility: A Review. Advances in Life Sciences, 1(1):11-19.
[9] Kjørsvik, E., Mangor-Jensen, A., Holmefjord, I., 1990.Egg quality in fishes. In: Blaxter, J.H.S., Southward, A.J. (Eds.), Advanced Marine Biology, vol. 26, pp. 71.
[10] Suquet, M., Omnes, M.H., Normant, Y., Fauvel, C., 1992. Influence of photoperiod, frequency of stripping and presence of females on sperm output in turbot (Scophthalmusmaximus).Aquaculture Fish Management. 23, 217 – 225.
[11] Taborsky, M., 2008. Sperm competition in fish: 'bourgeois' males and parasitic spawning. Trends Ecology Evolution. 13, 222 – 227.
[12] Obiajuru, I.O.C. 1991. Intestinal microflora of tilapia and claria fishes in Ezere and Ekpe –Obia streams Orisuihiteukwa, Orlu, HND project, Federal Polytechnic, Nekede Owerri, Imo state, 59pp.
[13] Boonthai T, Khaopong W, Sangsong J, Vuthiphandchai V, Nimrat S. 2016.Influence of Aeromonas hydrophila and Pseudomonas fluorescens on motility, viability and morphometry of cryostored silver barb (Barbodesgonionotus) sperm. Cryobiology;73:140–146.
[14] Oplinger R.W, Wagner E.J. 2015; Use of penicillin and streptomycin to reduce spread of bacterial coldwater disease I: antibiotics in sperm extenders. J Aquatic Anim Health; 27:25– 31.
[15] Austin, B. and Austin, D. A., (2007): "Bacterial fish pathogens . Disease of farmed and wild fish Praxis publishing, U. K; 2007; 581 pp.
[16] Murray,M.G. & Thompson, W. F. 1980.Rapid Isolation of high Molecular Weight Plant DNA: Nucleic Acids Research.8 (19): 4321-4325.
[17] Gennari M., Dragotto F.1992: Isolation and characterization of Acinetobacter calcoacetisus from raw, washed and frozen vegetables, 37, 131–137.
[18] Akinyemi, A.A (2009): Microorganisms associated with fish hatchery systems and their effects on hematological parameters of cultured Clarias gariepinus (Burchell, 1822) broodstock PhD Fish pathology Thesis. University of Agriculture, Abeokuta. Nigeria. 221pp.
[19] Awe, F.A. (2019): Evaluation of bacteria isolated from African catfish Clariasgariepinus (Burchell, 1822) and treatment with selected plant extracts. PhD Fish Pathology Thesis.Federal university of Agriculture, Abeokuta, Nigeria. 455pp.
[20] Awe, F.A; Hammed, A.M; Olarinmoye, O.M; Owodeinde, FG.Adeboyejo, O.A; Clake, E.O; Whenu, O.O. Akinyemi, A.A; Ezeri, G.N.O; Bankole, M.O. and Olanloye, A.O (2021). Isolation and characterization of Bacteria isolated from Sub-Adult African Mud-CatfishClariasgariepinus from selected fish farms in Ogun-state, Nigeria. Journal of Fisheries International. 16, Issue1, 1-8. 16(1): 1-8pp.
[21] Gram, L.& Huss, H.H. 2000. Fresh and processed fish and shellfish, in: The microbiological safety and quality of foods. Lund, B.M. A.C. Baird Parker and G.W. Grould (Eds.) Champinan and Hall, London., pp. 472- 506.
[22] Diemer, T; Huwe, P.; Michelmann, H.W.; Mayer, F.; Schiefer, H.G.& Weidner, W. 2000 Escherichia coli- induced alterations of human spermatozoa. An electron microscopy analysis. Int J Androl; 23:178–86.
[23] Maciejewska R, Kchaou W, Chaari C, Znazen A, Keskes L, Rebai T, et al. 2005.Ureaplasma
[24] urealyticum, Ureaplasmaparvum, Mycoplasmahominis and Mycoplasma genitalium infections and semen quality of infertile men. BMC Infect Dis. 7: 129. doi: 10.1186/1471-2334-7-129.
[25] Olufemi , A.A. (1998). Bacteriological studies and chemical analysis of public well water in Samaru and Zaria city in Northern Nigeria. Journal of Microbiology, 8 (1-2): 88- 98.
[26] Gosh, E., Hlahla, D., Didelot, X., Kops, F., Maurischat, S., Tedin, K., Alter, T., Ellerbroek, L., Schreiber, K., Schomburg, D., Janssen, T., Bartholomäus, P., Hofreuter, D., Woltemate, S., Uhr, M., Brenneke, B., Grüning, P. Gerlach, G., Wieler, L., Suerbaum, S. and C. Josenhans. 2002. Closely related Campylobacter jejuni strains from different sources reveal a generalist rather than a specialist lifestyle. BMC Genomics. 12:584.
[27] Bairagi, V.; Ansede- Bermejo, J.; RodriguezCastro, A. and Urtaza- Martinez, J. (2002): Evaluation of different procedures for the optimized detection of Vibrio parahaemolyticus in mussels and environmental samples. International Journal of Food Microbiology, 129: 229-236.
[28] Van der Marel, M., Schroers, V., Neuhaus, H., and Steinhagen, D. (2008). Chemotaxis towards, adhesion to, and growth in carp gut mucus of two Aeromonashydrophila strains with different pathogenicity for common carp, Cyprinuscarpio L. Journal. FishDisease. 31, 321–330.
[29] Chiou, K. S., Ahmed, S. F., El-Khalek, R. A., Al-Gendy, A., and Klena, J. (1994). Aeromonas-associated infections in developing countries. J. Infect. Dev. Ctries. 2, 81–98.
[30] Jeney, C., and Jeney, E. (1995). Influence of diseases on the wild eel stock: the case of Albufera Lake. Aquaculture 289, 143–149. doi: 10.1016/j. aquaculture. 2008.12.015
[31] Markey, B., F. Leonard, M. Archambault, A. Cullinane, and D. Maguire. . 2013. Clinical Veterinary Microbiology, Oxford University Press, New York, NY, USA, 2nd edition.
[32] Gavini F, Ferragut C, Izard D, Trinel PA, Leclerc H, Lefebvre B, Mossel DA. 1979; Serratia fonticola, a new species from water. Int J Syst Bacteriology, 29, 92- 101.
[33] Farmer, J.J., Davis, B.R., Hickman-Brenner, F.W., McWhorter, A., Huntley-Carter, G.P., Asbury M.A., Riddle C, Wathen-Grady HG, Elias C, Fanning GR, Steigerwalt AG, O'Hara CM, Morris, G.K., Smith, P.B.and Brenner, D.J. 1985. Biochemical identification of new species and biogroups of Enterobacteriaceae isolated from clinical specimens. J ClinicalMicrobiology, 21,46-76.
[34] Nieto, T.P., López, L.R., Santos, Y., Núñez S, Toranzo AE. 1990.Isolation of Serratiaplymuthica as an opportunistic pathogen in rainbow trout, Salmogairdneri Richardson, Journal Fish Disease, 13, 175-177.
[35] Kunimoto, D., Rennie, R., Citron, D.M. and Goldstein, E.J.C. 2004. Bacteriology of a bear bite wound to a human: Case Report. J ClinicalMicrobiology, 42, 3374-3376.
[36] Rauta P.R., Kumar K., Sahoo P.K.2011. Emerging new multi–drug resistant bacteria pathogen, Acinetobacterbaumannii associated with snakehead Channa striatus eye infection. Science , 101, 548–553.
[37] Jahan,S., Jewel, M. A. S. , Haque, M. A. 2019. "Current status of bacterial contamination in some fish species of Bakkhali River Estuary, Bangladesh," Archives of Agriculture and Environmental Science, vol. 4, no. 1, pp. 96–100, 2019.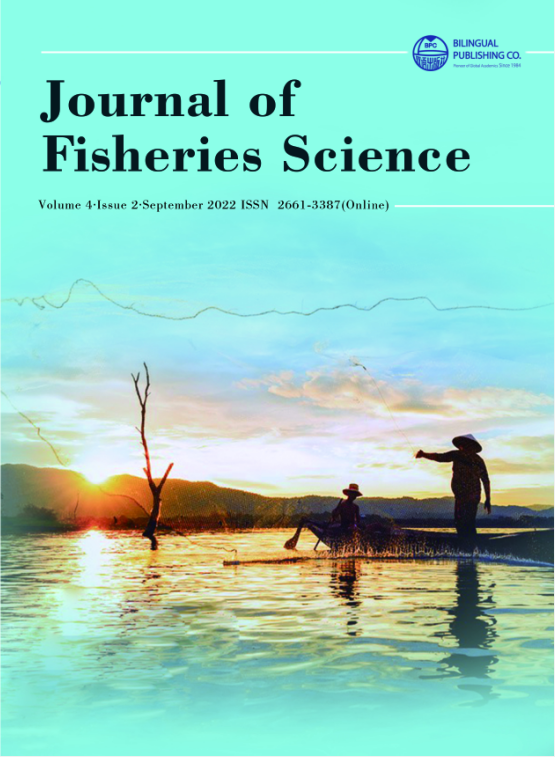 Downloads
License
Copyright and Licensing
The authors shall retain the copyright of their work but allow the Publisher to publish, copy, distribute, and convey the work.
Journal of Fisheries Science publishes accepted manuscripts under Creative Commons Attribution-NonCommercial 4.0 International License (CC BY-NC 4.0). Authors who submit their papers for publication by Journal of Fisheries Science agree to have the CC BY-NC 4.0 license applied to their work, and that anyone is allowed to reuse the article or part of it free of charge for non-commercial use. As long as you follow the license terms and original source is properly cited, anyone may copy, redistribute the material in any medium or format, remix, transform, and build upon the material.
License Policy for Reuse of Third-Party Materials
If a manuscript submitted to the journal contains the materials which are held in copyright by a third-party, authors are responsible for obtaining permissions from the copyright holder to reuse or republish any previously published figures, illustrations, charts, tables, photographs, and text excerpts, etc. When submitting a manuscript, official written proof of permission must be provided and clearly stated in the cover letter.
The editorial office of the journal has the right to reject/retract articles that reuse third-party materials without permission.
Journal Policies on Data Sharing
We encourage authors to share articles published in our journal to other data platforms, but only if it is noted that it has been published in this journal.