Maintaining the Health of Professional Folk Dancers in Conditions of Physical Recreation
Abstract
Research on the health issues of folk dancers has not been sufficiently developed. A sociological survey of the artists of the National Academic Ensemble of Folk Dance "Joc" from Moldova on the problems of a healthy lifestyle, diet, rest regime, physical and mental state, the attitude of respondents to physical activity in fitness clubs, readiness to engage in physical recreation to improve their condition, prevention diseases, allowed to determine the types of physical recreation and fitness programs recommended for dancers.
Keywords:
Folken-dancers, Health, Physical recreation.
References
[1] Gusev GP (2004) Folk dance teaching methodology (dance moves and combinations in the middle of the hall). Moscow: VLADOS.
[2] Endaltsev BV (2008) Physical culture, human health and performance in extreme environmental conditions. Monograph. St. Petersburg: Ministry of Defense of the Russian Federation.
[3] Aftimichuk OE (2009) Theory and methodology of fitness: (Theory and methodology of recreational and health-improving physical culture): A course of lectures for special. "Recreational physical culture". Chisinau: "Valinex" SA.
[4] Aftimichuk OE (2018) Theory and methodology of strength fitness: Textbook. Chisinau: Valinex.
[5] Aftimichuk OE (2011) Wellness aerobics. Theory and methodology: [textbook]; State un-t physical education and sports. Chisinau: "Valinex" SRL.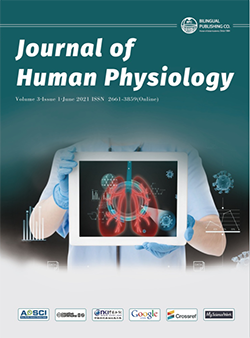 Downloads
License
Copyright and Licensing
The authors shall retain the copyright of their work but allow the Publisher to publish, copy, distribute, and convey the work.
Journal of Human Physiology publishes accepted manuscripts under Creative Commons Attribution-NonCommercial 4.0 International License (CC BY-NC 4.0). Authors who submit their papers for publication by Journal of Human Physiology agree to have the CC BY-NC 4.0 license applied to their work, and that anyone is allowed to reuse the article or part of it free of charge for non-commercial use. As long as you follow the license terms and original source is properly cited, anyone may copy, redistribute the material in any medium or format, remix, transform, and build upon the material.
License Policy for Reuse of Third-Party Materials
If a manuscript submitted to the journal contains the materials which are held in copyright by a third-party, authors are responsible for obtaining permissions from the copyright holder to reuse or republish any previously published figures, illustrations, charts, tables, photographs, and text excerpts, etc. When submitting a manuscript, official written proof of permission must be provided and clearly stated in the cover letter.
The editorial office of the journal has the right to reject/retract articles that reuse third-party materials without permission.
Journal Policies on Data Sharing
We encourage authors to share articles published in our journal to other data platforms, but only if it is noted that it has been published in this journal.