Research on Government Compensation for Toll Road Public-Private Partnerships (PPP) Projects
Abstract
With the continuous implementation of the PPP projects, due to the imperfection of relevant policies, the blindness of government subsidy is constantly emerging. Thus, it is important to put forward a practical approach for valuing the subsidies and risk. In this paper, the revenue subsidies model and traffic subsidies model are established. Then combined with practical cases, Monte Carlo simulation is used to get the value and probability of government subsidies under different compensation ways. On this basis, the influence of initial traffic volume and traffic growth rate on government subsidies and net present value of investors is analyzed. The research findings can provide theoretical guidance for the government to choose a reasonable way of subsidies, balance the risk of compensation, and formulate subsidies policies.
Keywords:
Project management, Subsidies, Monte Carlo, Toll road, Public-Private-Partnership
References
[1] Wibowo, A. Valuing guarantees in a BOT infrastructure project. Engineering Construction and Architectural Management, 2004, 11(6): 395-403.
[2] Cheah Charles Y J,Liu Jicai. Valuing governmental support in infrastructure projects as real options using Monte Carlo simulation. Construction Management and Economics, 2005, 24(5): 545-554.
[3] Brandao, L. E. T. & Saraiva, E. The option value of government guarantees in infrastructure projects. Construction Management and Economics, 2008, 26(11), 1171-1180.
[4] Galera, A. L. L. & Soliño, A. S. A real options approach for the valuation of highway concessions. Transportation Science, 2010, 44(3), 416-427.
[5] Jun Jaebum. Appraisal of combined agreements in BOT project finance: Focused on minimum revenue guarantee and revenue cap agreements. International Journal of Strategic Property Management, 2010, 14(2): 139-155.
[6] Liou Fen-May, Huang Chih-Pin, Chen Borliang. Modeling Government Subsidies and Project Risk for Financially Non-Viable Build-Operate-Transfer (BOT) Projects. Engineering Management Journal, 2012, 24(1): 58 – 64.
[7] Ashuri B, Kashani H, Molenaar K R and at al. Risk-Neutral Pricing Approach for Evaluating BOT Highway Projects with Government Minimum Revenue Guarantee Options. Journal of Construction Engineering and Management, 2012, 138(4): 545-557.
[8] Chiara, N. & Kokkaew, N., 2013. Alternative to Government Revenue Guarantees: Dynamic Revenue Insurance Contracts. Journal of Infrastructure System, 19(3), 287-296.
[9] Feng Zhuo, Zhang Shui-Bo, Gao Ying. Modeling the impact of government guarantees on toll charge, road quality and capacity for Build-Operate-Transfer (BOT) road projects. Transportation Research Part A: Policy and Practice, 2015, 78: 54-67.
[10] Ministry of Finance of P.R. China. Guidelines on financial viability of government and social capital cooperation projects, 2015.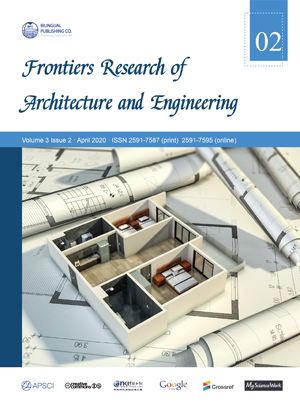 Downloads
Article Type
Research Paper
License
Copyright and Licensing
The authors shall retain the copyright of their work but allow the Publisher to publish, copy, distribute, and convey the work.
Frontiers Research of Architecture and Engineering publishes accepted manuscripts under Creative Commons Attribution-NonCommercial 4.0 International License (CC BY-NC 4.0). Authors who submit their papers for publication by Frontiers Research of Architecture and Engineering agree to have the CC BY-NC 4.0 license applied to their work, and that anyone is allowed to reuse the article or part of it free of charge for non-commercial use. As long as you follow the license terms and original source is properly cited, anyone may copy, redistribute the material in any medium or format, remix, transform, and build upon the material.
License Policy for Reuse of Third-Party Materials
If a manuscript submitted to the journal contains the materials which are held in copyright by a third-party, authors are responsible for obtaining permissions from the copyright holder to reuse or republish any previously published figures, illustrations, charts, tables, photographs, and text excerpts, etc. When submitting a manuscript, official written proof of permission must be provided and clearly stated in the cover letter.
The editorial office of the journal has the right to reject/retract articles that reuse third-party materials without permission.
Journal Policies on Data Sharing
We encourage authors to share articles published in our journal to other data platforms, but only if it is noted that it has been published in this journal.