An Analysis of Clinical Characters of Inpatients with Infection in the Department of Endocrinology
Abstract
Objective: To analyze the clinical characters of 812 inpatients with infection in the Department of Endocrinology. Methods: Retrospective exhibition of these patients' clinical characters included undergoing diseases, infectious organs, history illness, blood glucose and glycosylated hemoglobin (HbA1C), biochemical indicators, pathogens training description and results, medical imagines, antibiotic utilization, length of stay and hospital costs, final diagnosis and situations. Results: Non-diabetic patients accounted for 176 (21.67%), who were the cases of untreated well hyperthyroidism, mainly suffered with respiratory tract infection. Diabetic patients accounted for 636 (78.33%). In the type2 diabetes patients 376 (59.12) suffered with urinary tract infection. 192 (30.19%) suffered with respiratory system infection, 124 (19.50%) were accompanied with diabetic foot infection, which had 74 (59.67%) patients with HbA1C>9.0%.Statistical comparisons showed that the days of antibiotic use and average length of stay in hospital per capita in patients with HbA1C≥8% were more than ones with HbA1C<8% in those with diabetic infections (P<0.01) . The days of antibiotic use per capita in patients with HbA1C>9% were more than ones with HbA1C<7% in those with diabetic foot infections (P<0.01). Conclusion: Endocrine diseases lack rigid and effective long-term control, which may result in the complications involved with urinary tract, respiratory tract and infections in other organs. The time of hospitalization per capita and the duration of antibiotic use rise are longer in diabetic patients with poor blood sugar control and diabetic foot infection.
Keywords:
Department of endocrinology, Infection, Inpatient, Clinical analysis
References
[1] Cui W, Deng B,Wang W,et al. Graves hyperthyroidism accompanied with acute hepatitis B virus infection: an extra hepatic manifestation [J]. Virology Journal,2016,13(9): 80-81.
[2] Gyssens I C. Efficacy and safely of IV/PO moxifloxacinand IV piperacillin/ tazobactam followed by PO amoxicillin/clavulanic acid in the treatment of diabetic foot infections: Results of the Relief study[J]. Infection, 2013, 1 (1): 125.
[3] Sorensen S M, Schcnheyder H C, Nielsen H. The role of imaging of the urinary tract in patients with urosepsis [J]. Int J Infect Dis, 2013, 17 (5) :299-303.
[4] Arrellano-Valdez F, Urrutia-Osorio M, Ar-royo C, et al. A comprehensive review of urologic complications in patients with diabetes [J]. Springer Plus, 2014, 11 (3): 54-59.
[5] Yi Zou, Shuyu Huang, Yimin Yan. Clinical Analysis of Elderly Patients with Type 2 Diabetes Mellitus Complicated with Pulmonary Infection [J]. Journal of Practical Diabetology. 2015, 11(1): 36-37.
[6] Dubsky M, Jirkovská A, Bem R, et al. Risk factors for recurrence of diabetic foot ulers: prospective follow-up analysis in the Euro diale subgroup [J]. Int Wound J, 2013, 10 (5): 555-561.
[7] Neto A M, Zantut-Wittmannn D E, Fernandes T D, et al. Risk factors for ulceration and amputation in diabetic foot: study in a cohort of 496 patients[J]. Endcrine, 2013, 44 (1): 119-124.
[8] Hongxia Sun, Xianrong Liu, Chuanbo Zhou. Etiology and Drug Resistance of Pulmonary Infection in Diabetic Patients [J]. Chinese Journal of Nosocomiology, 2016, 26(2): 332-334.
[9] Ling Li, Rong Shen, Xinrong Wang, Distribution and Drug Resistance of Common Pathogens in Hospital Infection of Inpatients with Respiratory Diseases [J]. Chinese Journal of Nosocomiology, 2015, 35(3): 531-533.
[10] Nicolle L E. Asymptomatic bacteriuria[J]. Curr Opin Infect Dis, 2014, 27 (1):90-96.
[11] Lan Yao. Analysis of Pathogen Distribution and Drug Resistance in 95 Patients with Diabetic Foot Infection [J]. Acta Academiae Medicinae Wannan, 2015, 34(5): 464-468.
[12] Hsiang C W, Liu C H, Fan H L, et al. Clinical features and computed tomography characteristics of non-Klebsiella pneumoniae liver abscesses in elderly (>65 years) and nonelderly patients [J]. Yonsei Med J, 2015, 56 (2): 519-528.
[13] Boyle D P, Zembower T R. Epidemiology and management of emerging drug-resistant gram-negative bacteria: Extended-spectrum IL lactamases and beyond[J]. Urol Clin North Am, 2015, 42 (4): 493-505.
[14] Chinese Diabetes Society. Guidelines for the Prevention and Treatment of Type 2 Diabetes in China (2013 edition) [J]. Chinese Journal of Endocrinology and Metabolism, 2014, 30 (10): 893-942.
[15] Jing Dai, Lixin Guo. Interpretation of the 2013 International Diabetes Federation Management Guidelines for Type 2 Diabetes in the Elderly [J]. Chinese Journal of the Frontiers of Medical Science. 2014, 6(2): 98-102.
[16] Diabetic Foot Disease Society of China International Exchange and Promotion Association for Medical and Healthcare. Chinese Diabetes Foot Treatment Guide [J]. National Medical Journal of China. 2017, 97(4): 251-258.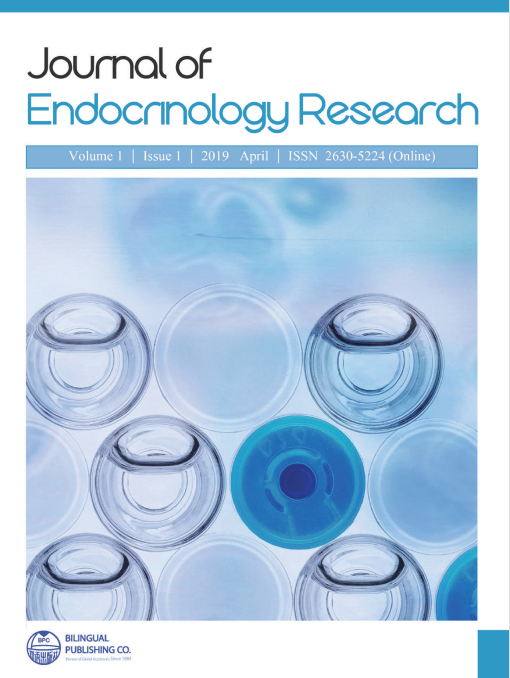 Downloads
How to Cite
Zhang, J. (2019). An Analysis of Clinical Characters of Inpatients with Infection in the Department of Endocrinology. Journal of Endocrinology Research, 1(1), 25–32. https://doi.org/10.30564/jer.v1i1.729
Downloads
Download data is not yet available.