On the International Cooperation of Baotou Vocational and Technical Colleges
Abstract
Economic Globalization makes the internationalization of higher vocational education an inevitable trend. However, there are some problems with the international cooperation of Baotou's higher vocational schools. This paper analyzes the effective modes of the international cooperation of the Higher Vocational Colleges in Baotou from the perspective of the foreign language proficiency of teachers and students, the construction of teaching staff, the cooperation between schools and enterprises, the investment of funds, the renewal of ideas, and the Sino-foreign cooperation in running schools.
Keywords:
Higher vocational education, Internationalization, Issue
References
[1] Li Zhenhong. Problems and Countermeasures in Teaching Management of Sino-Foreign Cooperative Education [J]. Journal of Shandong Vocational and Technical College of Commerce, 2010(3).
[2] Gao Shuliang. Study on the Practice and Countermeasures of Vocational Education Internationalization in Secondary and Higher Vocational Schools [J]. Transportation Vocational Education, 2016(5).
[3] Mai Linyan. Internationalization of Vocational Education: Current Situation, problems and Countermeasures——Based on the Investigation and Analysis of Guangzhou Vocational Colleges[J]. Vocational Education Forum, 2016(4).
[4] Dong Dakui. German FH Education and its Practice in China [J]. Vocational and Technical Education, 2007(1).
[5] Chen Chunyi, Liu Renxiong. Absorption-Integration-Reconstruction: on the Triple Realm of International Running Schools of Higher Vocational Education -- Data Analysis of 2016 Annual Report of Higher Vocational Quality [J]. Journal of Jiangsu Vocational and Trade College, 2017 (4).
[6] Yan Ying, Kang Qiang. Learning from Singapore Vocational Education to Develop China's Modern Higher Vocational Education [J]. Textile Education, 2016 (6).
[7] Tan Zhuping. Research on the Promotion Strategy of "Going out" of Higher Vocational Education Internationalization [J]. Modern Vocational Education Research, 2017,(6).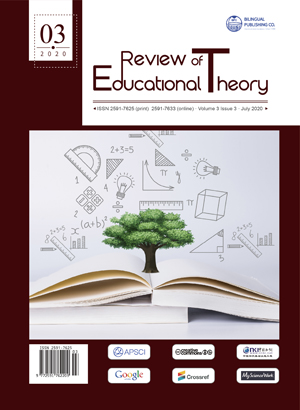 Downloads
License
Copyright and Licensing
The authors shall retain the copyright of their work but allow the Publisher to publish, copy, distribute, and convey the work.
Review of Educational Theory publishes accepted manuscripts under Creative Commons Attribution-NonCommercial 4.0 International License (CC BY-NC 4.0). Authors who submit their papers for publication by Review of Educational Theory agree to have the CC BY-NC 4.0 license applied to their work, and that anyone is allowed to reuse the article or part of it free of charge for non-commercial use. As long as you follow the license terms and original source is properly cited, anyone may copy, redistribute the material in any medium or format, remix, transform, and build upon the material.
License Policy for Reuse of Third-Party Materials
If a manuscript submitted to the journal contains the materials which are held in copyright by a third-party, authors are responsible for obtaining permissions from the copyright holder to reuse or republish any previously published figures, illustrations, charts, tables, photographs, and text excerpts, etc. When submitting a manuscript, official written proof of permission must be provided and clearly stated in the cover letter.
The editorial office of the journal has the right to reject/retract articles that reuse third-party materials without permission.
Journal Policies on Data Sharing
We encourage authors to share articles published in our journal to other data platforms, but only if it is noted that it has been published in this journal.