On the Art Science of Film and Interaction Design
Abstract
As one of the most important contemporary art forms, film is a medium to present stories with multi-dimensional stimulation. It seems that movies and interaction design are two unrelated majors, but in fact there are many contents and forms of existence in movies which take interaction design as the design method. In other words, movies and interaction design actually have a lot in common. This paper will analyze and find the interweaving points from the perspective of interaction design and film respectively. Also through some specific interaction or film cases to further explain the relationship between the two.
Keywords:
Art Science, Film, Interaction design
References
[1] Eliashberg J, Sawhney M. Modeling goes to Hollywood: predicting individual differences in movie enjoyment[J]. Management Science, 1994, 40(9): 1151-1173.
[2] Kong Jingjing. Research on Interactive Media Design based on Processing [D]. Jiangnan University.
[3] The influence of Deng Yunqing's visual effects on film and TELEVISION art [J]. Second Half of Literature Education, 2019 (04).
[4] Hide your face and walk fast. Film's redefinition of time [J]. Oriental Film, 2009(4).
[5] [5]Kim, In Ki, Kim, Hyung sup, Lee, Cheol,. Identification of visual and auditory design attributes for the affective interaction design in movies[J]. IFAC Proceedings Volumes, 2007, 40(16):398-402.
[6] Jon Boorstin , Making Movies Work: Thinking Like a Filmmaker [M] Silman-James Pr 1995 (224).
[7] Robert McKee. Story: Substance, Structure, Style and the Principles of Screenwriting[J]. International Journal of Cognition Technology & Work, 1997.
[8] Zhou Jie. Science fiction Film Art under the concept of Human-computer Interaction in the Future [J]. Film Literature, 2013, 000(014):27-28.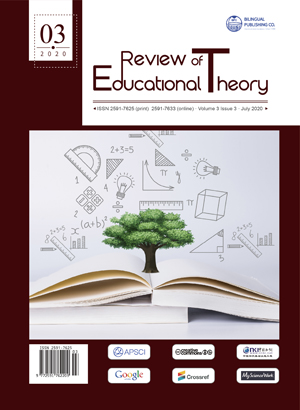 Downloads
License
Copyright and Licensing
The authors shall retain the copyright of their work but allow the Publisher to publish, copy, distribute, and convey the work.
Review of Educational Theory publishes accepted manuscripts under Creative Commons Attribution-NonCommercial 4.0 International License (CC BY-NC 4.0). Authors who submit their papers for publication by Review of Educational Theory agree to have the CC BY-NC 4.0 license applied to their work, and that anyone is allowed to reuse the article or part of it free of charge for non-commercial use. As long as you follow the license terms and original source is properly cited, anyone may copy, redistribute the material in any medium or format, remix, transform, and build upon the material.
License Policy for Reuse of Third-Party Materials
If a manuscript submitted to the journal contains the materials which are held in copyright by a third-party, authors are responsible for obtaining permissions from the copyright holder to reuse or republish any previously published figures, illustrations, charts, tables, photographs, and text excerpts, etc. When submitting a manuscript, official written proof of permission must be provided and clearly stated in the cover letter.
The editorial office of the journal has the right to reject/retract articles that reuse third-party materials without permission.
Journal Policies on Data Sharing
We encourage authors to share articles published in our journal to other data platforms, but only if it is noted that it has been published in this journal.