Optimization of Determination of Sucralose in Drink by HPLC
Abstract
To optimize the method for determination of Sucralose in drink by high performance liquid chromatography (HPLC). Using HPLC with RID, operating conditions were C18 reversed phase chromatograph column, 40:60 = methanol: 0.125% potassium hydrophosphate as mobil phase, measured at a flow rate of 0.8 mL/min. In the range of 20 ~ 400 mg L, with the concentration of Sucralose and corresponding peak area as standard, r = 0.9999, it has good correlation, the recovery of sucralose is 94~108%.The lower limit of detection of Sucralose was 0.0024 g/kg. This method not only meets the requirements of national standards, but also fast, sensitive, and environmentally friendly, improves the detection efficiency and safety of the detection of sucralose in drink by high performance liquid chromatography.
Keywords:
Drink, Sucralose, HPLC, RID
References
[1] Ling GT,Tang SC,Tao MQ. Handbook of food additives[M], Beijing: Chemical Industry Press, 1997:197-199.
[2] Kang WN, The charaeters and applications of the sueralose[J]. China Food Additives, 2002, 2:78-80
[3] Grice HC,Goldsmith LA. Sucralose-an overview of the toxicity data[J]. Food Chem Toxicol, 2000, 38(2): S1-S6.
[4] Hunter BT. Sucralose. Consumer' Research Magazine[J], 1990, 73( 10 ): 8 -9.
[5] Chen N, Zhang PM, Wu SC et al. Simultaneous determination of sucralose, alucose, fructose and sucrose in beverage bv ion-exchange chromatography with column-switching[J], Chin J Chromatogr, 2016 ,10:956-959.
[6] Lin L,Wang LL,Qian C et al. Determination of sucralose in food by ion chromatography with amperometric detection[J], China Food Additives, 2013,05:214-218.
[7] Paul J , Lobat D . Determination of Acesulfame and Sucralose in Oral Electrolyte Maintenance Solution by Liquid Chromatography[J]. J AOAC, 2003, 86(1): 79 -85.
[8] Nojiri s, Nakazato M, Kasuya Y, et al. Determination of sucralase in foods by HPLC using pre - column derivatization[J]. Shokuhin Eiseigaku Zasshi, 2002 ,43 ( 5 ): 289 -94.
[9] Gan BB, Tang YR,Liang C. Determination of sucralose in food by HPLC[J]. Technology & Development of Chemical Industry, 2008, 37(8): 31-32.
[10] Wang GH, Guo JX, Ke HN et al. Sucrose synthesis seasoning agent-determination of sucralose[J]. Guangxi Journal of Light Industry, 2006, (5): 18-19.
[11] Zhou WY, Deng XJ. Analysis of sucralose content by HPLC[J]. Food Science, 2007, 28(07):360-361.
[12] Li H,Wei Y,Zhang Y et al. Separation and determination of sucralose by reversed-phase HPLC[J]. Science and Technology of Food Industry, 2002, 23(6):66-67.
[13] Xiong LB, Dai CB, He QQ. Method for quantitative determination of sucralose in food[J], Sh J Prev Med, 2005,04: 156-158.
[14] Valoran PH , Jeffrey S J. Determination of Sucralose in Splenda and Sugar - Free Beverage Using High - Performance Anion-Exchange Chromatography with Pulsed Amperometric Detection[J]. Food Chem. , 2004 , 52(14): 4375-4379.
[15] Yan-zhen,Jiyun Nie et. Determination of 7 sweeteners in fruit juice by Uplc-ms. Quality and safety of agricultural products, 2018, 4.
[16] GB 22255-2014, Determination of sucralose(sucrose) in food[S].
[17] Yu F. Comparative Study of Sucralose Determination Methods[J], Food and Fermentation Technology, 2009, 45(5): 69-71.
[18] Zhang L.Determination of sucralose in drink by high performance liquid chromatography [J], Chinese Journal of Health Laboratory Technology, 2007, 10(17): 1784-1786.
[19] Chen XX,You JS,Yang ZW et al. Determination of sucralose content in health food by high performance liquid chromatography[J]. Journal of Food Safety and Quality, 2015, 5(6): 1883-1888.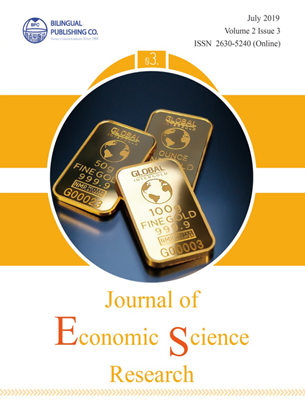 Downloads
License
Copyright and Licensing
The authors shall retain the copyright of their work but allow the Publisher to publish, copy, distribute, and convey the work.
Journal of Economic Science Research publishes accepted manuscripts under Creative Commons Attribution-NonCommercial 4.0 International License (CC BY-NC 4.0). Authors who submit their papers for publication by Journal of Economic Science Research agree to have the CC BY-NC 4.0 license applied to their work, and that anyone is allowed to reuse the article or part of it free of charge for non-commercial use. As long as you follow the license terms and original source is properly cited, anyone may copy, redistribute the material in any medium or format, remix, transform, and build upon the material.
License Policy for Reuse of Third-Party Materials
If a manuscript submitted to the journal contains the materials which are held in copyright by a third-party, authors are responsible for obtaining permissions from the copyright holder to reuse or republish any previously published figures, illustrations, charts, tables, photographs, and text excerpts, etc. When submitting a manuscript, official written proof of permission must be provided and clearly stated in the cover letter.
The editorial office of the journal has the right to reject/retract articles that reuse third-party materials without permission.
Journal Policies on Data Sharing
We encourage authors to share articles published in our journal to other data platforms, but only if it is noted that it has been published in this journal.