Analysis of Renewable Energy Research Hotspots and Trends Based on Bibliometric and Patent Survey
Abstract
In recent years, renewable energy has taken on an increasingly important role as a result of the depletion of traditional fossil fuels and the pressure of climate change. Due to the advantages of clean energy production and wide availability, research on renewable energy has increased worldwide. We collected data from the Web of Science and the Derwent Innovations Index to analyze research trends in the field of renewable energy. It was found that the number of research achievements in this field has developed rapidly worldwide since 2005. The United States ranks first in the quantity and quality of literature and fourth in the number of authorized patents. China ranks second and first regarding the quantity of literature and authorized patents, respectively. Biomass energy, wind energy, and solar energy are trending research topics in various stages of development. China has maintained close cooperation with the United States, the United Kingdom, Australia, and other countries.
Keywords:
Renewable energy, Technology transfer, Bibliometrics, Authorized patent analysis, Situational analysis
References
[1] Fan J-L, Wang J-X, Hu J-W, Wang Y, Zhang X. Optimization of China's provincial renewable energy installation plan for the 13th five-year plan based on renewable portfolio standards. Appl Energy 2019;254:113757.
[2] Azevedo SG, Santos M , Antón JR. Supply chain of renewable energy: A bibliometric review approach. Biomass and Bioenergy 2019;126:70-83.
[3] Proskuryakova LN, Ermolenko GV. The future of Russia's renewable energy sector: Trends, scenarios and policies. Renewable Energy 2019;143:1670-1686.
[4] Liang Y, Yu B, Wang L. Costs and benefits of renewable energy development in China's power industry. Renew Energy 2019;131:700–12.
[5] Perea-Moreno M-Á, Samerón-Manzano E, Perea A. Biomass as Renewable Energy: Worldwide Research Trends. Sustainability 2019;11:863.
[6] Graus WC. Renewable energy:past trends and future growth in 2 degrees scenarios. Energy Procedia 2016;100:14-21.
[7] Liu J. China's renewable energy law and policy: A critical review. Renew Sustain Energy Rev 2019;99:212–9.
[8] Perea-Moreno M-A, Hernandez-Escobedo Q, Perea-Moreno A-J. Renewable Energy in Urban Areas: Worldwide Research Trends. Energies 2018;11.
[9] Yang W, Zhang X, Zhang X. A bibliometric review of China's new energy in 2017. IOP Conf. Series: Earth and Environmental Science 2019;252.
[10] Xue Liang. UN: huge renewable energy potential still needs policy support. 2011. http://env.people.com.cn/GB/14661922.html.[In Chinese]
[11] Chen Minxi. The positioning and function of coal power in the system in the "The Fourteenth Five-Year Plan" and the future period. Chinese & Foreign Entrepreneurs 2019; 32:16-21.[In Chinese]
[12] Urban F. China's rise: Challenging the North-South technology transfer paradigm for climate change mitigation and low carbon energy. Energy Policy 2018;113:320–30.
[13] Powell K R, Peterson S R. Coverage and quality: A comparison of Web of Science and Scopus databases for reporting faculty nursing publication metrics. Nursing Outlook 2017:S002965541630392X.
[14] Andreas B. A deep analysis of chemical structure-based patent searching in the Derwent index space. World Patent Information 2018;53:49-57.
[15] Fan J, Wang J, Wei S, Zhang X. The Development of China's Renewable Energy Policy and Implications to Africa. IOP Conf Ser Mater Sci Eng 2018;394:042034.
[16] Singarao, VY, Singh, RP. Review of State and National Renewable Energy Policies. IEEE Green Technologies Conference 2014; 81-86.
[17] Yu, DJ, Meng, S. An overview of biomass energy research with bibliometric indicators, Energy & Env 2018;29:576-590.
[18] Woon, WL, Aung, Z, Madnick, S. Forecasting and Visualization of Renewable Energy Technologies Using Keyword Taxonomies. International Workshop on Data Analytics for Renewable Energy Integration 2014;8817:122-136.
[19] Abelson PH.Increased use of renewable energy. Science 1991;253;5024:1073.
[20] Romo-Fernández, L.M., Guerrero-Bote, V.P., Moya-Anegón, F. Co-word based thematic analysis of renewable energy (1990–2010). Scientometrics 2013;97: 743–765.
[21] Pouris A. A bibliometric assessment of energy research in South Africa. South African Journal of Science 2016;112:11-12.
[22] Kirchherr J, Urban F. Technology transfer and cooperation for low carbon energy technology: Analysing 30 years of scholarship and proposing a research agenda. Energy Policy 2018;119:600–9.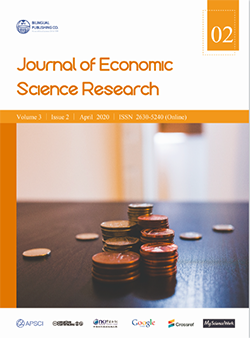 Downloads
License
Copyright and Licensing
The authors shall retain the copyright of their work but allow the Publisher to publish, copy, distribute, and convey the work.
Journal of Economic Science Research publishes accepted manuscripts under Creative Commons Attribution-NonCommercial 4.0 International License (CC BY-NC 4.0). Authors who submit their papers for publication by Journal of Economic Science Research agree to have the CC BY-NC 4.0 license applied to their work, and that anyone is allowed to reuse the article or part of it free of charge for non-commercial use. As long as you follow the license terms and original source is properly cited, anyone may copy, redistribute the material in any medium or format, remix, transform, and build upon the material.
License Policy for Reuse of Third-Party Materials
If a manuscript submitted to the journal contains the materials which are held in copyright by a third-party, authors are responsible for obtaining permissions from the copyright holder to reuse or republish any previously published figures, illustrations, charts, tables, photographs, and text excerpts, etc. When submitting a manuscript, official written proof of permission must be provided and clearly stated in the cover letter.
The editorial office of the journal has the right to reject/retract articles that reuse third-party materials without permission.
Journal Policies on Data Sharing
We encourage authors to share articles published in our journal to other data platforms, but only if it is noted that it has been published in this journal.