The Contribution and Prospect of 5G Technology to China's Economic Development
Abstract
Since the birth of 5G, it has attracted much attention from all countries in the world. The development of 5G industry is particularly important for domestic economic development. 4G changes life, 5G changes society. 5G will not only accelerate the speed of people surfing the Internet, but also bring revolutionary changes to all aspects of social life, making people's lives, work and entertainment more convenient and diverse. The economic impact of the development of the 5G industry on China cannot be underestimated. Nowadays, information and communication technology has increasingly become a new driving force for economic development. 5G technology has already become a key technology pursuit for countries to compete for the status of world power, and it has also become an indispensable part of contemporary economic and social development. We should give full play to the government's guiding role, and work with network giants to build a new platform for cooperation, promote coordinated industrial development, achieve win-win results, and promote economic and social prosperity and development.
Keywords:
5G, Collaborative development, Innovation
References
[1] Lili Guo. Prospects for the development trend of 5G network industry[J]. Computer Knowledge and Technology: Academic Exchange, 2016, 12(12): 25-27.
[2] Jianzhong Kang. Analysis of the current application situation and development trend of 5G mobile communication[J] .Communications World, 2016(16): 46.
[3] China Report. Economic and Social Impact Analysis[J]. Market Analysis, 2018(02).
[4] China Report Network. 2018-2023 China's 5G Industry Market Production and Sales Situation Analysis and Investment Development Trend Research Report[J]. Research Report, 2017:(12).
[5] Ke Song. The Impact of 5G Technology Development on the Banking Industry[J]. Economy, 2019(10).
[6] Si Xu. 5G Promotes High Quality Development of Chinese Economy[J]. Development Research, 2019(9).
[7] Chunfei Zhang. 5G Industrial Economic Contribution[J]. Research Report, 2019(03).
[8] Luhan Zhou. 5G Time Foster New Economic Drivers[J]. Guide to the New Economic, 2017(10).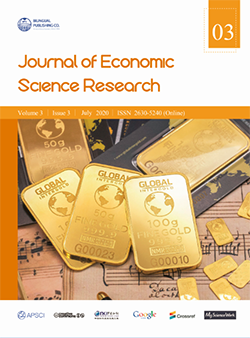 Downloads
License
Copyright and Licensing
The authors shall retain the copyright of their work but allow the Publisher to publish, copy, distribute, and convey the work.
Journal of Economic Science Research publishes accepted manuscripts under Creative Commons Attribution-NonCommercial 4.0 International License (CC BY-NC 4.0). Authors who submit their papers for publication by Journal of Economic Science Research agree to have the CC BY-NC 4.0 license applied to their work, and that anyone is allowed to reuse the article or part of it free of charge for non-commercial use. As long as you follow the license terms and original source is properly cited, anyone may copy, redistribute the material in any medium or format, remix, transform, and build upon the material.
License Policy for Reuse of Third-Party Materials
If a manuscript submitted to the journal contains the materials which are held in copyright by a third-party, authors are responsible for obtaining permissions from the copyright holder to reuse or republish any previously published figures, illustrations, charts, tables, photographs, and text excerpts, etc. When submitting a manuscript, official written proof of permission must be provided and clearly stated in the cover letter.
The editorial office of the journal has the right to reject/retract articles that reuse third-party materials without permission.
Journal Policies on Data Sharing
We encourage authors to share articles published in our journal to other data platforms, but only if it is noted that it has been published in this journal.