Research on the Economic Vitality of the Northeast China
Abstract
Economic vitality is an important indicator of regional competitiveness. The demand for talents and the vitality of enterprises in different regions are obvious to all and have practical significance. Therefore, it is necessary to establish a survey data model and conduct in-depth study on improving regional economic vitality from the perspective of policy.
Based on a variety of forecasting methods, this paper analyzes the short-term and long-term impact of economic policies in Northeast China, and finally puts forward the factors that affect the economic vitality of northeast policies. Finally, the paper puts forward the feasibility and targeted suggestions of strengthening regional economic vitality, obtaining long-term development and building a more competitive city in the new era. 
Keywords:
Adaptive filtering, Trend extrapolation
References
[1] Huiqing Zhao, Chenyang Guo. Research on the
[2] Impact of Population Agglomeration on Urban Economic Growth[J]. Journal of Wuxi Commercial Vocational College, 2019, 19 (03): 1-8.
[3] Baili Wang. On the Impact of Human Capital on the
[4] Economy in Northeast China[J]. World of Labor Security, 2019(33): 1.
[5] Jin Xin, Xiaofei Wang. Fixed Assets Investment, Aging and Economic Vitality: A Provincial Perspective
[6] Study[J]. Population Journal, 2019, 41(05): 57-71.
[7] Lizhen Liu, Qinglong Wang. Research on Financial
[8] Support for Industrial Transformation and Upgrading in Northeast China[J]. Social Science Front,
[9] (02): 65-70.
[10] Zhuoyue Ding. Research on the Belt and Road Initiative and Northeast Asia Regional Economic Cooperation[J]. Enterprise Reform and Management, 2018,
[11] (11): 207+209.
[12] Jian Wang. Research on Northeast Industrial Transformation and Upgrading Development under Big
[13] Data[J]. Digital Users, 2017, 023(023): 219-220.
[14] Guofu Zhou. Research on the Regional Disparity in
[15] China's Economic Development[M]. Northeast University of Finance and Economics Press, 2001.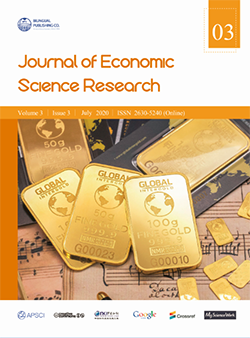 Downloads
License
Copyright and Licensing
The authors shall retain the copyright of their work but allow the Publisher to publish, copy, distribute, and convey the work.
Journal of Economic Science Research publishes accepted manuscripts under Creative Commons Attribution-NonCommercial 4.0 International License (CC BY-NC 4.0). Authors who submit their papers for publication by Journal of Economic Science Research agree to have the CC BY-NC 4.0 license applied to their work, and that anyone is allowed to reuse the article or part of it free of charge for non-commercial use. As long as you follow the license terms and original source is properly cited, anyone may copy, redistribute the material in any medium or format, remix, transform, and build upon the material.
License Policy for Reuse of Third-Party Materials
If a manuscript submitted to the journal contains the materials which are held in copyright by a third-party, authors are responsible for obtaining permissions from the copyright holder to reuse or republish any previously published figures, illustrations, charts, tables, photographs, and text excerpts, etc. When submitting a manuscript, official written proof of permission must be provided and clearly stated in the cover letter.
The editorial office of the journal has the right to reject/retract articles that reuse third-party materials without permission.
Journal Policies on Data Sharing
We encourage authors to share articles published in our journal to other data platforms, but only if it is noted that it has been published in this journal.