Research on Teaching Innovation of Property Insurance Course: Based on the Perspective of Big Data Development
Abstract
The development of big data has brought unprecedented challenges and opportunities to the teaching reform of higher education. Property insurance course is the core course of economics and management, and it is the guarantee for the supply of talents in the health financial market. Big data technology and data economy put forward innovative requirements for its teaching objectives, teaching content, and teaching system. In China's new round of double-first-class universities and disciplines, big data is an important foundation and driving force. The comprehensive integration of property insurance and big data is reflected in: Cultivate students' big data thinking; Cultivate students' practical application ability based on market employment needs; Build a new discipline system of applied economics, and achieve good coordination between property insurance courses and other disciplines; The government, enterprises and universities form a strategic partnership to jointly participate in the development and construction of courses; The formulation of government policies can have a better governance effect on the development of higher education and talent training.
Keywords:
Big data, Property insurance, Double first-class, Digital economy, One Belt One Road
References
[1] Armah N. Big Data Analysis: The Next Frontier[J].Bank of Canada Review,2013.
[2] Galbraith J,Thacz G. Nowcasting GDP:Electronic Payments,Data Vintages and the Timing of Data Release[R].CIR-ANO,2013.
[3] Akhtar S M F. Big Data Architect's Handbook: A guide to building proficiency in tools and systems used by leading big data experts[M].Packt Publishing,2018.
[4] Ceron A, et al,.Politics and Big Data: Nowcasting and Forecasting Elections with Social Media[M].Routledge,2016.
[5] Watanabe K, Watanabe T.Estimating Daily Inflation Using Scanner Data: A Progress Report[R] .University of Tokyo, Graduate,Gratuate School of Economics,2014.
[6] Stephenson D.Big Data Demystified: How to use big data, data science and AI to make better business decisions and gain competitive advantage[M].FT Publishing International,2018.
[7] Prevos,P. Principles of Strategic Data Science: Creating value from data, big and small[M].Packt Publishing,2019.
[8] Li Siming Conglin Yang Yanqing. China Financial Leasing Industry 2014 Annual Report[M]. China Economic Publishing House, 2014.
[9] Huang Jin.Thinking and Exploration on the Training of Big Data Talents[J].Education Teaching Forum,2014(45).
[10] Lane J,et al,.Privacy, Big Data, and the Public Good: Frameworks for Engagement[M].Cambridge University Press,2014.
[11] Deshpande A,Kumar M. Artificial Intelligence for Big Data: Complete guide to automating Big Data solutions using Artificial Intelligence techniques[M].Packt Publishing,2018.
[12] Huang JiangYu,Chengqian Xie.Research on Engineering Insurance Issues in Public Procurement in China[J].Wop in Economics and Management, 2020(17):340-345.
[13] Medimagh S. PUBLIC-PRIVATE PARTNERSHIP AND THE POWER OF THE BIG DATA[J]. International Journal of Economics & Strategic Management of Business Process,2016.
[14] Fu-Guo Cao,Jiang-Yu Huang. The Current Situation,Problems and Future Paths of Energy Law Education in China,International Journal of Vocational Education and Training Research[J].2018,04(01).
[15] Calero A J,et al. Leading innovations towards 5G: Europe's perspective in 5G infrastructure public-private partnership(5G-PPP)[C]. 2017 IEEE 28th Annual International Symposium on Personal,Indoor and Mobile Radio Communications(PIMRC). IEEE,2017.
[16] Richard M. Contino . Complete manual for equipment rental[M].China Finance Press,p11
[17] Ministry of Commerce,China Representative Office in Tanzania. Country (Region) Guide for Foreign Investment Cooperation----Tanzania ,retrieved from https://img.imsilkroad.com/a/10001/202002/edbdd7d7fbffd9dbc8fbdb63afc77696.pdf? sign=429ff09d8e747b7176fd3dbb0661ebee,2020/10/02.
[18] Li Zhonghua. Financial leasing operation practice and legal risk prevention[M]. Law Press CHINA, 2012.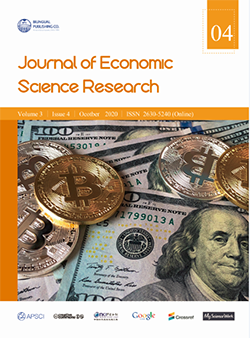 Downloads
License
Copyright and Licensing
The authors shall retain the copyright of their work but allow the Publisher to publish, copy, distribute, and convey the work.
Journal of Economic Science Research publishes accepted manuscripts under Creative Commons Attribution-NonCommercial 4.0 International License (CC BY-NC 4.0). Authors who submit their papers for publication by Journal of Economic Science Research agree to have the CC BY-NC 4.0 license applied to their work, and that anyone is allowed to reuse the article or part of it free of charge for non-commercial use. As long as you follow the license terms and original source is properly cited, anyone may copy, redistribute the material in any medium or format, remix, transform, and build upon the material.
License Policy for Reuse of Third-Party Materials
If a manuscript submitted to the journal contains the materials which are held in copyright by a third-party, authors are responsible for obtaining permissions from the copyright holder to reuse or republish any previously published figures, illustrations, charts, tables, photographs, and text excerpts, etc. When submitting a manuscript, official written proof of permission must be provided and clearly stated in the cover letter.
The editorial office of the journal has the right to reject/retract articles that reuse third-party materials without permission.
Journal Policies on Data Sharing
We encourage authors to share articles published in our journal to other data platforms, but only if it is noted that it has been published in this journal.