Industrial Linkage: Dynamic Equilibrium Supply Chain of Foundry Landmark Industrial Chain -- An Analysis Based on Zhejiang
Abstract
In the face of the impact of the epidemic on the industrial chain and supply chain, it is an inevitable requirement for industrial development to ensure the dynamic balance of the supply chain. Supply chain is the basis for the generation of industrial chain. Industrial linkage can promote the rational layout of industries. The operation mode of supply chain is the main driving force of industrial linkage. To build a dynamic and balanced supply chain, we must focus on symbolic industries and adopt measures of chain protection, chain supplement, chain creation and chain financing.
Keywords:
Industrial chain, Supply chain, Dynamic equilibrium, Industry linkage
References
[1] Research group of Institute of industrial economics, Chinese Academy of social sciences, 2021. Research on the path to improve the modernization level of industrial chain supply chain [J]. China industrial economy. 2, 80-96.
[2] Ma, S.H., Li, Y.M., Liu, H., 2021. Construction of whole industry chain development model of carbon fiber industry in Beijing [J]. Research on science and technology management.41 (2), 120-127.
[3] Chen, W.H., Wang, J.Q., 2021. Research on the driving force and policy of China's industrial chain cluster development [J]. Price theory and practice. 7, 44-48.
[4] Li, Y., 2021. Promoting the integration of innovation chain and industrial chain [N]. People's daily. (Accessed 26 October 2021).
[5] Miao, W., 2020. Improving the modernization level of industrial chain and supply chain [n]. Economic daily. December 09.
[6] Huang, Q.H., 2020. Promoting the optimization and upgrading of economic system with the improvement of industrial chain and supply chain modernization. Marxism and reality. 6, 38-42.
[7] Wang, J., 2021. Research on the integration path to improve the modernization level of industrial chain and supply chain [J]. Journal of Central South University of economics and law. 3, 144-156.
[8] Zhang, J.J., Sun, D.W., Zhao, Q.L., 2021. Theoretical framework and practical path of building a "double cycle" new development pattern based on the perspective of supply chain [J]. Business economy and management. 8, 5-15.
[9] Yang, Z.H., Xiao, J., 2021. optimization path of regional industrial supply chain development under the background of free trade zone construction [J]. Research on commercial economy. 9, 176-178.
[10] Zhang, X.C., 2021. Research on sales and supply chain model and optimization of agricultural products in poor areas driven by cities [J]. China soft science. 5, 79-89.
[11] Tao, L. , Rui, N., 2007. Connotation, theoretical basis and manifestation of industrial linkage [J]. Industrial technology and economy. 26 (5), 1-4.
[12] Zhang, R., Hao, D.J., 2019. Review of research on industrial linkage and economic development [J]. Business economics. 512 (4), 4-5.
[13] Wang, D.L., Fang, C.L., 2010. Characteristics of cross regional industrial division and linkage in China [J]. Geographical research. 29 (8), 1393-1403.
[14] Dong, M.F., Yuan, Y.K., 2014. Industrial classification method based on direct distribution coefficient [J]. Statistics and decision making. 420 (24), 37-39.
[15] Tian, W.X., 2019. Fighting a tough battle for the modernization of Zhejiang's industrial chain [J]. Zhejiang economy. 78 (19), 63.
[16] Song, T., 2020. Building Zhejiang version of "future factory" and promoting the modernization of Zhejiang industrial chain [J]. Zhejiang economy. 79 (5), 36-39.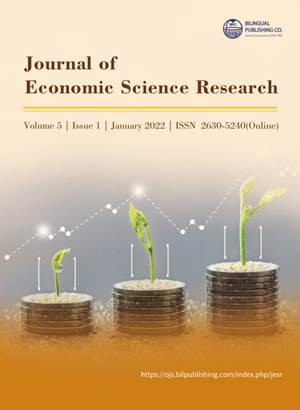 Downloads
License
Copyright and Licensing
The authors shall retain the copyright of their work but allow the Publisher to publish, copy, distribute, and convey the work.
Journal of Economic Science Research publishes accepted manuscripts under Creative Commons Attribution-NonCommercial 4.0 International License (CC BY-NC 4.0). Authors who submit their papers for publication by Journal of Economic Science Research agree to have the CC BY-NC 4.0 license applied to their work, and that anyone is allowed to reuse the article or part of it free of charge for non-commercial use. As long as you follow the license terms and original source is properly cited, anyone may copy, redistribute the material in any medium or format, remix, transform, and build upon the material.
License Policy for Reuse of Third-Party Materials
If a manuscript submitted to the journal contains the materials which are held in copyright by a third-party, authors are responsible for obtaining permissions from the copyright holder to reuse or republish any previously published figures, illustrations, charts, tables, photographs, and text excerpts, etc. When submitting a manuscript, official written proof of permission must be provided and clearly stated in the cover letter.
The editorial office of the journal has the right to reject/retract articles that reuse third-party materials without permission.
Journal Policies on Data Sharing
We encourage authors to share articles published in our journal to other data platforms, but only if it is noted that it has been published in this journal.