Woman Empowerment and Household Income in Kira Municipality, Uganda
Abstract
The empowerment of women is crucial for the development of a nation .This study is about women empowerment and household income in Kira Municipality of Uganda. The objectives were to establish the strategies of women empowerment, the effect of women empowerment on household income and the challenges to women empowerment. We adopted a cross-sectional survey design, considering a sample size of 72 respondents who were randomly sampled. Findings revealed that strategies for women empowerment included women being encouraged to join group saving groups. It was revealed that women were not adequately trained as dispute settlers, linkers, motivators, facilitators, and negotiators to help implement women empowerment projects in as far as empowering them was concerned. Regarding the impact of women empowerment, findings revealed that skills have been enhanced through training received from women empowerment implementers and programs have reduced employment among these women through skills attained. However, key challenges to women empowerment emerged including but not limited to There is inadequate finance and inappropriate funding of activities, limited access to credit sources to expand our activities, poorly trained community projects facilitators and unnecessary hinder project activities and political interests which affect women group leadership such as interference from community political forces. It is recommended that more efforts should be put to economic empowerment as a process of increasing women's access to economic resources and opportunities including jobs, financial services, property and other productive assets, skills development and market information. Lastly women should be encouraged to participate in enterprise activities to gain a greater economic role in decision-making. Exercising control over these financial matters enables women to optimize their own and the household's welfare.
Keywords:
Women, Empowerment, Household, Income
References
[1] O'Neil, T., Domingo, P., & Valters, C., Progress on women's empowerment. London: Overseas Development Institute. 2014.
[2] Cornwall, A., Women's empowerment: What works?. Journal of International Development, 2016, 28(3), 342-359.
[3] Golla, A. M., Malhotra, A., Nanda, P., Mehra, R., Kes, A., Jacobs, K., & Namy, S., Understanding and measuring women's economic empowerment. 2011.
[4] Amu, N. J., The role of women in Ghana's economy.Friedrich Ebert Foundation. 2015.
[5] Sell, M., & Minot, N., What factors explain women's empowerment? Decision-making among small-scale farmers in Uganda. In Women's Studies International Forum. 2018, Vol. 71, pp. 46-55.
[6] Inglehart, R., Norris, P., & Ronald, I., Rising tide: Gender equality and cultural change around the world. Cambridge University Press. 2003. [7] Lipset, S. M., Democracy and working-class authoritarianism. American Sociological Review. 1959,482- 501.
[7] Maslak, M. A., & Singhal, G., The identity of educated women in India: confluence or divergence?. Gender and Education, 2008, 20(5), 481.
[8] Namely, E. Natasha, M., Woodsong, C. MacQueen, M. K. and Guest, G, Qualitative Research methods. A data collector's field guide. A USAID publication for Family Health International, 2005, 51-76.
[9] Bersaglio, B., Enns, C. and Kepe, T., Women under construction: The United Nations' representations of women in the global conversation on the post-2015 development agenda. Canadian Journal of Development Studies, 2015, 36(1), 57-71.
[10] Gachuru, H.M. & Mwirigi, F.M., Challenges in the disbursement of the Women Enterprise Development Fund: A case of Mombasa County, Kenya. International Journal of Social Sciences and Entrepreneurship. 2014, 1 (10).
[11] Bryman, A., Social Research Methods. (5th Ed.). Oxford, Oxford University Press (OUP), 2016,181.
[12] Briggs, B., R., Issues affecting Ugandan indigenous entrepreneurship in trade. African Journal of Business Management. 2009,3 (12), 786-797.
[13] Creswell, J. W. and Plano Clark, V. L., Designing and conducting mixed method research (2nd ed.). Thousand Oaks, CA: Sage. 2011.
[14] Kothari, C.R., Research Methodology; Methods and techniques (2nd Ed.). New Age International Publishers, New Delh; India. 2004, 152-155, 57-59.
[15] Patton, M. Q., Qualitative evaluation and research methods (3rd ed.). Newbury Park, CA: Sage Publications. 2001.
[16] Kathleen Pichora-Fuller, M., Watts, K. L., & La More, C., Development of the listening self-efficacy questionnaire (LSEQ). International Journal of Audiology, 2011, 50(6), 417-425.
[17] Kira Municipal Physical Development Plan 2019 - 2040 –Draft final report.
[18] Amin, E.M, Social Science Research: Conception, Methodology and analysis. Makerere University, 2005, 2005-462 pages.
[19] Nyale N.M, Women empowerment and livelihoods: rural women registered in groups involved in horticulture production in Trans Nzoia County, Kenya. 2015.
[20] Cooper, D. R., and Schindler, P. S., Business research methods. McGraw- Hill Irwin, Pennsylvania State University. 2006.
[21] Bruno, G.S.F., Tanveer, M.C., Marelli, E. and Signorelli, M., The short- and long-run impacts of financial crises on women unemployment in OECD countries. Applied Economics, 2017, 49(34), 3372-3394.
[22] Gujarati, D. N., Basic Econometrics. New York: McGraw Hill, Inc. 3rd Edition. 1995.
[23] Mayoux, L., Research Round-Up Women's empowerment and micro-finance programmes: strategies for increasing impact. Development in practice, 2015, 8(2), 235-241.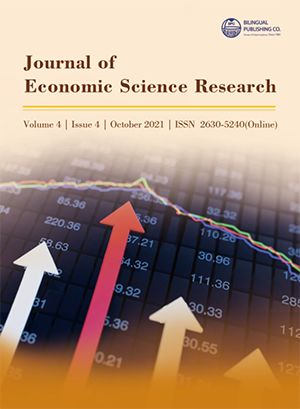 Downloads
License
Copyright and Licensing
The authors shall retain the copyright of their work but allow the Publisher to publish, copy, distribute, and convey the work.
Journal of Economic Science Research publishes accepted manuscripts under Creative Commons Attribution-NonCommercial 4.0 International License (CC BY-NC 4.0). Authors who submit their papers for publication by Journal of Economic Science Research agree to have the CC BY-NC 4.0 license applied to their work, and that anyone is allowed to reuse the article or part of it free of charge for non-commercial use. As long as you follow the license terms and original source is properly cited, anyone may copy, redistribute the material in any medium or format, remix, transform, and build upon the material.
License Policy for Reuse of Third-Party Materials
If a manuscript submitted to the journal contains the materials which are held in copyright by a third-party, authors are responsible for obtaining permissions from the copyright holder to reuse or republish any previously published figures, illustrations, charts, tables, photographs, and text excerpts, etc. When submitting a manuscript, official written proof of permission must be provided and clearly stated in the cover letter.
The editorial office of the journal has the right to reject/retract articles that reuse third-party materials without permission.
Journal Policies on Data Sharing
We encourage authors to share articles published in our journal to other data platforms, but only if it is noted that it has been published in this journal.