The Impact of COVID-19 on Informal Employment and the Measures Taken by the Chinese Government: The Analysis of Street Vending Economy in Nanjing
Abstract
To revitalize Chinese economic activities under the influence of the pandemic, the Chinese government adjusts the policies and attitudes about street vending. Taking Nanjing as a typical example of a city of street vending, the paper expounds in-depth on the positive impact of street vending on the economy after the pandemic. Meantime, it also describes the new management policies of street vending made by the Nanjing government to develop with a good trend. In addition, the paper directly reflects Nanjing people's views on street vending and the resulting behavior through professional data. Finally, through the analysis of the advantages of street vending, it proves that the support from street vending in the Chinese economy is non-negligible after the pandemic.
Keywords:
Pandemic, Economy, Street vending, Development, Survey, Nanjing
References
[1] Unleashing the huge potential of new employment patterns. (n.d.). Retrieved February 9, 2022, from Gov.cn website: http://www.sic.gov.cn/News/568/10585.htm
[2] The Municipal Bureau of Urban Management issued "Opinions" to create a new scene of consumption Conditional commercial streets can be temporary outside the stalls_Nanjing Information_Nanjing Municipal People's Government. (2020, May 2). Retrieved February 9,
[3] , from http://www.nanjing.gov.cn/njxx/202005/t20200502_1857806.html
[4] 2020 Nanjing districts outside the bazaar stall location. (n.d.). Retrieved February 9, 2022, from Bendibao.com website: http://nj.bendibao.com/news/202061/87498.shtm
[5] Jiangpu Sub-district Office of Pukou District People's Government "Jiangpu Sub-district makes urban management more warm based on serving people's livelihood". Retrieved from:
[6] http://www.pukou.gov.cn/pkqrmzf/202111/t20211115_3195466.html
[7] Ma Binrui. Development concept of land sharing economy in post-epidemic era [J]. Modern Trade and Industry,2021,42(28):21-22.DOI:10.19311/j.cnki.1672-3198.2021.28.009.
[8] Report on the Unbundling and Development of Nanjing's "Floor Stall Economy"_Online Survey_Nanjing Municipal People's Government. (2020c, July 17). Retrieved from: http:// www.nanjing.gov.cn/hdjl/zjdc/wsdc/202007/t20200717_2261967.html
[9] Preliminary Arrangement and Task of Nanjing National Economic and Social Development Plan in 2020 by Nanjing Development and Reform Commission. Retrieved from: http://fgw.nanjing.gov.cn/njsfzhggwyh/202101/t20210104_2782085.html
[10] Xu Hanmei, Zhang Huihui. The role of street vendor economy in helping informal workers from the perspective of epidemic: A case study of Qingdao city [J]. Modern trade and industry, 2021,42(28):23-24.DOI:10.19311/j.cnki.1672-3198.2021.28.010.
[11] Li Yuege. On the Necessity of the existence and Governance of Urban "Stall Keeper Economy" in China [J]. Economic Research Guide,2012(26):46-48+56.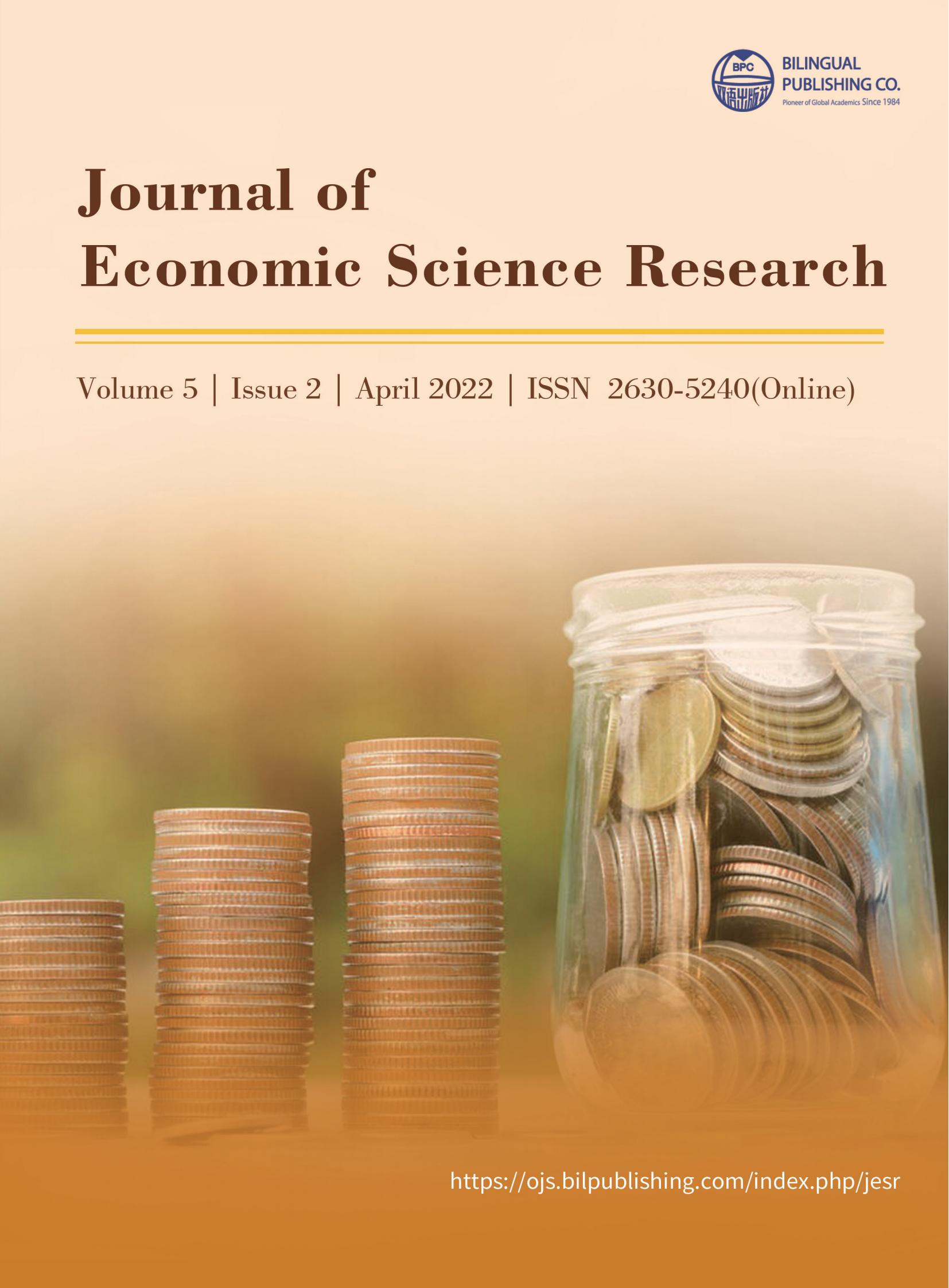 Downloads
License
Copyright and Licensing
The authors shall retain the copyright of their work but allow the Publisher to publish, copy, distribute, and convey the work.
Journal of Economic Science Research publishes accepted manuscripts under Creative Commons Attribution-NonCommercial 4.0 International License (CC BY-NC 4.0). Authors who submit their papers for publication by Journal of Economic Science Research agree to have the CC BY-NC 4.0 license applied to their work, and that anyone is allowed to reuse the article or part of it free of charge for non-commercial use. As long as you follow the license terms and original source is properly cited, anyone may copy, redistribute the material in any medium or format, remix, transform, and build upon the material.
License Policy for Reuse of Third-Party Materials
If a manuscript submitted to the journal contains the materials which are held in copyright by a third-party, authors are responsible for obtaining permissions from the copyright holder to reuse or republish any previously published figures, illustrations, charts, tables, photographs, and text excerpts, etc. When submitting a manuscript, official written proof of permission must be provided and clearly stated in the cover letter.
The editorial office of the journal has the right to reject/retract articles that reuse third-party materials without permission.
Journal Policies on Data Sharing
We encourage authors to share articles published in our journal to other data platforms, but only if it is noted that it has been published in this journal.