SOCIAL AND ECONOMIC DEVELOPMENT MODELS IN THE Digital transformation era
Abstract
The article analyses development regularities of human system and investigates possible social and economic development models in the era of digital transformation. The article demonstrates that there are three models that can be applied in the conditions of Industry 4.0 technological revolution with its rapidly emerging digital devices and technology breakthroughs of the 21st century. These models are shaped in accordance with their development purposes, which can establish different relations between state, society, business, and specific individuals. The authors convincingly show that there is only one model capable of providing sustainable development and creating a new model for economic development, which corresponds to digital technologies of the 21st century.
Keywords:
digital economy, economic, development, sustainable development, development goals, digitalization
References
[1] Aleshkovski, Ivan (2017) 'Globalization of international migration: social problems and political consequences', Bulletin of the Peoples' Friendship University of Russia, Sociology Series, No. 2, Vol. 17, pp. 213-224 (in Russian). ('Globalizatsiya mezhdunarodnoy migratsii: sotsialniye problemy i politicheskiye posledstviya.')
[2] Bondarenko, Valentina 'Forecasting the future through the prism of a new methodology for cognition, or the future can only be forecast on the basis of the future' / Forecasting the future: A new paradigm // Ed. by Fetisov G. G. and Bondarenko V. M. Moscow: Ekonomika, 2008, pp. 220-270 (in Russian). ('Prognozirovaniye budushchego skvoz' prizmu novoy metodologii poznaniya, ili prognozirovat' budushcheye mozhno tol'ko iz budushchego', Prognozirovaniye budushchego: novaya paradigma.)
[3] Bondarenko, Valentina (2011) 'Contours of future and present-day economies: two paradigms of development', Bulletin of the Institute of Economics of the Russian Academy of Sciences, No. 2, pp. 25-38 (in Russian). ('Kontury ekonomiki budushchego i nastoyashchego: dve paradigmy razvitiya', Vestnik Instituta ekonomiki RAN.)
[4] Bell, Daniel (1976) The Coming of Post-Industrial Society: A Venture in Social Forecasting. New York: Basic Books.
[5] Bondarenko Valentina (2014) Transition to crisis-free development: a myth or reality? // World Futures.Volume 70. №2. Pp. 93-119.
[6] Bondarenko Valentina M., Ilyin Ilya V., Korotayev Andrey V. (2017) Transition to a new global paradigm of development and the role of the United Nations in this process // World Futures. Volume 73. №8. P. 511-538.
[7] Barefoot Kevin, Curtis Dave, Jolliff William, Nicholson Jessica R., Omohundro Robert (2018) Defining and Measuring the Digital Economy. Working Paper 3/15/2018. URL: https://www.bea.gov/digital-economy/_pdf/defining-and-measuring-the-digital-economy.pdf. Retrieved on December 20, 2018.
[8] The Transformative Economic Impact of Digital Technology. URL: http://unctad.org/meetings/en/Presentation/ecn162015p09_Katz_en.pd. Retrieved on December 20, 2018.
[9] Programme 'Digital economy of the Russian Federation', Directive of the Government of the Russian Federation No. 1632-r of July 28, 2017 (in Russian). (Programma 'Tsifrovaya ekonomika Rossiyskoy Federatsii', rasporyazheniye Pravitel'stva Rossiyskoy Federatsii No. 1632-r.) URL: http://static.government.ru/media/files/9gFM4FHj4PsB79I5v7yLVuPgu4bvR7M0.pdf. Retrieved on December 20, 2018.
[10] 'Council for Strategic Development and Priority Projects meeting. July 5, 2017', a verbatim report. URL: http://en.kremlin.ru/events/president/news/54983. Retrieved on December 20, 2018.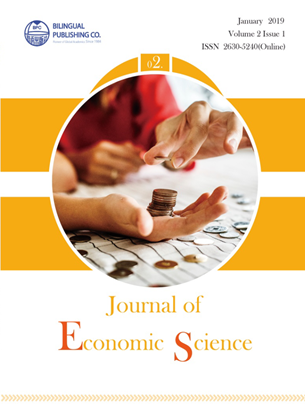 Downloads
License
Copyright and Licensing
The authors shall retain the copyright of their work but allow the Publisher to publish, copy, distribute, and convey the work.
Journal of Economic Science Research publishes accepted manuscripts under Creative Commons Attribution-NonCommercial 4.0 International License (CC BY-NC 4.0). Authors who submit their papers for publication by Journal of Economic Science Research agree to have the CC BY-NC 4.0 license applied to their work, and that anyone is allowed to reuse the article or part of it free of charge for non-commercial use. As long as you follow the license terms and original source is properly cited, anyone may copy, redistribute the material in any medium or format, remix, transform, and build upon the material.
License Policy for Reuse of Third-Party Materials
If a manuscript submitted to the journal contains the materials which are held in copyright by a third-party, authors are responsible for obtaining permissions from the copyright holder to reuse or republish any previously published figures, illustrations, charts, tables, photographs, and text excerpts, etc. When submitting a manuscript, official written proof of permission must be provided and clearly stated in the cover letter.
The editorial office of the journal has the right to reject/retract articles that reuse third-party materials without permission.
Journal Policies on Data Sharing
We encourage authors to share articles published in our journal to other data platforms, but only if it is noted that it has been published in this journal.