Nursing Care of a Case of Mediastinal Tumor Resection Combined with Postoperative Thoracic Hemorrhage after Video-assisted Thoracoscopic Surgery (VATS)
Abstract
Objective: To summarize the nursing experience of a patient withpostoperative intrathoracic hemorrhage after thoracoscopic-assistedresection of the right upper mediastinal tumor through the original incision.Methods: Summarize the main points of nursing care of postoperativeintrathoracic hemorrhage after thoracoscopic mediastinal surgery, includingobservation and nursing when internal hemorrhage occurs after operation,respiratory management, activity management and pain managementmeasures. Result: After careful care, the patient recovered and dischargedsmoothly. Conclusion: It is particularly important to observe the overallobservation and take timely corresponding nursing measures for patientswith intrathoracic hemorrhage after thoracoscopic mediastinal surgery.
Keywords:
Mediastinal tumor, Postoperative thoracic hemorrhage, Nursing care
References
[1] Yun PJ, Huang TW, L1 YF, et al. Symptomatic pericardial schwannoma treated with video-assisted thoracic surgery: a case report[J]. J Thorac Dis, 2016, 8(5): 349-352.
[2] Fenglei Yu, Xiang Wang, Mingjiu Chen, et al. Surgical treatment analysis of 109 fatal hemorrhages in 5267 cases of general thoracic surgery[J]. Chinese Physician Journal, 2005, 3(7).
[3] Xin Geng, Zhanhao Liu, Ming Huang. Full thoracoscopic surgery to remove primary mediastinal tumors[A]. Modern Instruments and Medical Care, 2017, 23(2): 18-19.
[4] Dehua Ma, Chengchu Zhu. Analysis of 11 cases of reoperation to stop bleeding after video-assisted thoracoscopy[J]. Journal of Clinical Surgery, 2006, 11(2).
[5] Cardillo G1, Carleo F, Khalil MW, et al. Surgical treatment of benign neurogenic tumours of the mediastinum: a single institution report EJ]. Eur J Cardiothorac Surg, 2008, 34(6): 1210-1214.
[6] Yu Duan, Yujun Wang, Yuanchun Long. Nursing experience of closed thoracic drainage[B]. Frontiers of Medicine, 2015, 5(18).
[7] Chinese Medical Association Thoracic and Cardiovascular Surgery Branch. Expert consensus on prevention and treatment of perioperative bleeding in thoracic surgery[J]. Chinese Journal of Clinical Thoracic and Cardiovascular Surgery, 2018, 34(6).
[8] Huihui Cao, Xi Xiao, Hui Meng. Evaluation and treatment progress of intrathoracic hemorrhage in general thoracic surgery[J]. Chinese Journal of Clinical Thoracic and Cardiovascular Surgery, 2017, 24(8): 640-643.
[9] Critical Care Medicine Branch of Chinese Medical Association. Guidelines for Resuscitation of Hypovolemic Shock (2007)[J]. Chinese Critical Care Medicine, 2008, 20(3): 129-134.
[10] Rady MY, Nightingale P, Little RA, Edwards JD. Shock index: a reevaluation in acute circulatory failure. Resuscitation. 1992, 23: 227-234.
[11] Chad M. Cannon, MD, Carla C et al. Utility of the Shock Index in Predicting Mortality in Traumatically Injured Patients[J] Trauma, 2009, 67: 1426-1430.
[12] Yanjie Hu, Hongqin Liu. Observation and nursing care of intrathoracic hemorrhage after thoracoscopic esophageal cancer resection[J]. Health Research, 2013, 33(3).
[13] Hang Hu, Hongqin Liu, Yingyan Yao. Nursing care of 30 lung cancer patients with intrathoracic hemorrhage after pneumonectomy[J]. Journal of Nursing, 2012, 19(8A).
[14] Kendall F, Abreu P, Pinho P, et al. The role of physiotherapy in patients undergoing pulmonary surgery for lung cancer. Aliterature review. Rev Port Pneumol, 2017, 23(6): 343-351.
[15] Bhatt NR, Sheridan G, Connolly M, et al. Postoperative exercise training is associated with reduced respiratory infection rates and early discharge: A case-control study. Surgeon, 2017, 15(3): 139-146.
[16] Cassidy MR, Rosenkranz P, McCabe K, et al. I COUGH: reducing postoperative pulmonary complications with a multidisciplinary patient care program. JAMA Surg, 2013, 148(8): 740-745.
[17] Thoracic Surgery Professional Committee of China Medical Foundation. Chinese expert consensus on lung protection during perioperative period of thoracic surgery (2019)[J]. Chinese Journal of Clinical Thoracic and Cardiovascular Surgery 2019, 26 (9).
[18] Liu Xin, Zhang Hong, Chen Lan. The design of the domestic peripheral operation breathing training device[J]. China Tissue Engineering Research and Clinical Rehabilitation, 2010, 14(48).
[19] Theunissen M, Peters ML, Bruce J, Gramke HF, Marcus MA. Preoperative anxiety and catastrophizing: a systematic review and meta-analysis of the association with chronic postsurgical pain. Clin J Pain, 2012, 28: 819-41.
[20] A Clinical Practice GuidelineFrom the American Pain Society. Guidelines on the Management of Postoperative Pain[J]. The Journal of Pain, 2016, 17(2).
[21] Guidelines for postoperative analgesia after SFAR in 2019.
[22] Peterffy A, Henze A. Haemorrhagic complications during pulmonary resection. A retrospective review of 1428 resections with 113 haemorrhagic episodes[J]. Scand J Thorac Cardiovasc Surg, 1983, 17(3): 283-287.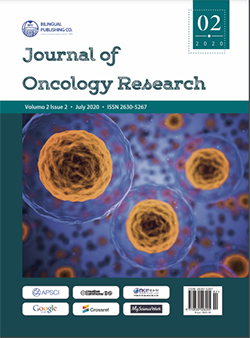 Downloads
How to Cite
Tang, M., Tang, X., & Cui, Y. (2020). Nursing Care of a Case of Mediastinal Tumor Resection Combined with Postoperative Thoracic Hemorrhage after Video-assisted Thoracoscopic Surgery (VATS). Journal of Oncology Research, 2(2), 31–35. https://doi.org/10.30564/jor.v2i2.2473
License
Copyright and Licensing
The authors shall retain the copyright of their work but allow the Publisher to publish, copy, distribute, and convey the work.
Journal of Oncology Research publishes accepted manuscripts under Creative Commons Attribution-NonCommercial 4.0 International License (CC BY-NC 4.0). Authors who submit their papers for publication by Journal of Oncology Research agree to have the CC BY-NC 4.0 license applied to their work, and that anyone is allowed to reuse the article or part of it free of charge for non-commercial use. As long as you follow the license terms and original source is properly cited, anyone may copy, redistribute the material in any medium or format, remix, transform, and build upon the material.
License Policy for Reuse of Third-Party Materials
If a manuscript submitted to the journal contains the materials which are held in copyright by a third-party, authors are responsible for obtaining permissions from the copyright holder to reuse or republish any previously published figures, illustrations, charts, tables, photographs, and text excerpts, etc. When submitting a manuscript, official written proof of permission must be provided and clearly stated in the cover letter.
The editorial office of the journal has the right to reject/retract articles that reuse third-party materials without permission.
Journal Policies on Data Sharing
We encourage authors to share articles published in our journal to other data platforms, but only if it is noted that it has been published in this journal.