Abound Hepatic Mitosis: Unusual Morphology in the Intrahepatic Cholelithiasis Patient
Abstract
To explore the clinicopathological features of abound mitosis of the hepatocytes in intrahepatic cholelithiasis. The clinicopathological data of one case diagnosed as intrahepatic cholelithiasis was collected from Yantai Yuhuangding Hospital and the clinicopathological characters were discussed. A 68-year-old man suffered from the pain in the right upper quadrant and radiology showed multiple stones in the gallbladder and left liver. The images suggested intrahepatic cholelithiasis. The patient received gallbladder and partial hepatectomy. A large number of mitosis was observed and twelve nuclear fissions were found under high magnification, even in some area pathological nuclear fission could be observed in morphology. On the basis of detection in laboratory, the diagnosis of intrahepatic cholelithiasis was made. The patient did not receive any therapy after surgery. The patient was in a good condition after 18 months follow-up. Increased number of hepatic mitosis might be due to the stimulation from stones, hepatic biliary or secondary inflammatory. High index of proliferation should be prevented from the potential misdiagnosis of hepatic tumor.
Keywords:
Intrahepatic cholelithiasis, Hepatocyte, Mitosis
References
[1] Berdoy M.. Defining bouts of behaviour: a three-process model[J]. 1993, 46(2): 387-396.
[2] Yachao Tao et al. Liver Regeneration: Analysis of the Main Relevant Signaling Molecules[J]. Mediators of Inflammation, 2017, 2017.
[3] Tazuma Susumu. Gallstone disease: Epidemiology, pathogenesis, and classification of biliary stones (common bile duct and intrahepatic).[J]. Best practice & research. Clinical gastroenterology, 2006, 20(6) : 1075-83.
[4] Nakayama F,Intrahepatic calculi: a special problem in East Asia.[J] .World J Surg, 1982, 6: 802-4.
[5] Lu H, Yang H, Wu L, Liao W, He X, Li E, Wu R, Shi S and Yang Z. A novel prognostic model for diagnosing atypical bile duct hyperplasia in patients with intrahepatic lithiasis. Medicine 2019; 98: e15364.
[6] He Z, Fu Z, Wu Y, Gong J and Zhang W. Surgical management of benign biliary strictures: a 20-year experience. Int J Clin Exp Med 2016; 9: 4635-4639.
[7] Shu Jie,Wang Xiao-Jun,Li Jian-Wei et al. Robotic-assisted laparoscopic surgery for complex hepatolithiasis: a propensity score matching analysis.[J] .Surg Endosc, 2019, 33: 2539-2547.
[8] Enliang Li,Rongshou Wu,Shidai Shi et al. Simple resection of the lesion bile duct branch for treatment of regional hepatic bile duct stones.[J] .Medicine (Baltimore), 2017, 96: e7414.
[9] Li SQ, Hua YP, Shen SL, Hu WJ, Peng BG and Liang LJ. Segmental bile duct-targeted liver resection for right-sided intrahepatic stones. Medicine 2015; 94: e1158.
[10] Li EL, Feng Q, Yang QP, Liao WJ, Liu WW, Huang Y, Wu LQ, Yin XB and Shao JH. Effectiveness of hepatic parenchyma lithotomy of hepatolithiasis: a single-center experience. Medicine 2017; 96: e6134.
[11] Wang Ping,Sun Beiwang,Huang Binyuan et al. Comparison Between Percutaneous Transhepatic Rigid Cholangioscopic Lithotripsy and Conventional Percutaneous Transhepatic Cholangioscopic Surgery for Hepatolithiasis Treatment.[J] .Surg Laparosc Endosc Percutan Tech, 2016, 26: 54-9.
[12] Huber Tobias,Huettl Florentine,Tripke Verena et al. Experiences With Three-dimensional Printing in Complex Liver Surgery.[J] .Ann Surg, 2021, 273: e26-e27.
[13] Poon RY. Cell cycle control: a system of interlinking oscillators. Methods Mol Biol 2016; 1342: 3-19.
[14] Wee P and Wang Z. Cell cycle synchronization of hela cells to assay EGFR pathway activation. Methods Mol Biol 2017; 1652: 167-181.
[15] Bae H, Go YH, Kwon T, Sung BJ and Cha HJ. A theoretical model for the cell cycle and drug induced cell cycle arrest of FUCCI systems with cell-to-cell variation during mitosis. Pharm Res 2019; 36: 57.
[16] Hirano T. Chromosome dynamics during mitosis. Cold Spring Harb Perspect Biol 2015; 7: a015792.
[17] Grah JS, Harrington JA, Koh SB, Pike JA, Schreiner A, Burger M, Schönlieb CB and Reichelt S. Mathematical imaging methods for mitosis analysis in livecell phase contrast microscopy. Methods 2017; 115: 91-99.
[18] Carvalho EV, Oliveira WF, Coelho LC and Correia MT. Lectins as mitosis stimulating factors: briefly reviewed. Life Sci 2018; 207: 152-157.
[19] Hayashi MT and Karlseder J. DNA damage associated with mitosis and cytokinesis failure. Oncogene 2013; 32: 4593-4601.
[20] Burgess A, Vuong J, Rogers S, Malumbres M and O'Donoghue SI. SnapShot: phosphoregulation of mitosis. Cell 2017; 169: 1358-1358. e1351.
[21] Moura M and Conde C. Phosphatases in mitosis: roles and regulation. Biomolecules 2019; 9: 55.
[22] Stasevich TJ, Sato Y, Nozaki N and Kimura H. Quantifying histone and RNA polymerase II post-translational modification dynamics in mother and daughter cells. Methods 2014; 70: 77-88.
[23] Marhenke S, Buitrago-Molina LE, Endig J, Orlik J, Schweitzer N, Klett S, Longerich T, Geffers R, Muñoz AS and Dorrell C. p21 promotes sustained liver regeneration and hepatocarcinogenesis in chronic cholestatic liver injury. Gut 2014; 63: 1501-1512.
[24] Webster B, Wissing S, Herker E, Ott M and Greene WC. Rapid intracellular competition between hepatitis C viral genomes as a result of mitosis. J Virol 2013; 87: 581-596.
[25] Carloni Vinicio,Lulli Matteo,Madiai Stefania et al. CHK2 overexpression and mislocalisation within mitotic structures enhances chromosomal instability and hepatocellular carcinoma progression.[J] .Gut, 2018, 67: 348-361.
[26] Santaguida Stefano,Amon Angelika,Short- and longterm effects of chromosome mis-segregation and aneuploidy.[J] .Nat Rev Mol Cell Biol, 2015, 16: 473- 85.
[27] Siegel Jake J,Amon Angelika,New insights into the troubles of aneuploidy.[J] .Annu Rev Cell Dev Biol, 2012, 28: 189-214.
[28] Jin CX, Hayakawa T, Ko SB, Ishiguro H andKitagawa M. Pancreatic stone protein/regenerating protein family in pancreatic and gastrointestinal diseases. Intern Med 2011; 50: 1507-1516.
[29] Chau TN, Lee KC, Yao H, Tsang TY, Chow TC, Yeung YC, Choi KW, Tso YK, Lau T and Lai ST. SARS-associated viral hepatitis caused by a novel coronavirus: report of three cases. Hepatology 2004; 39: 302-310.
[30] Shiga A and Narama I. Hepatic lesions caused by large granular lymphocyte leukemia in Fischer 344 rats: similar morphologic features and morphogenesis to those of nodular regenerative hyperplasia (NRH) in the human liver. Toxicol Pathol 2015; 43: 852-864.
[31] Graham C, Chauhan A and Anthony L. Can a highgrade neuroendocrine carcinoma be functional? Am J Med Sci 2019; 357: 258-262.
[32] Li D, Fu J, Du M, Zhang H, Li L, Cen J, Li W, Chen X, Lin Y and Conway EM. Hepatocellular carcinoma repression by TNFα-mediated synergistic lethal effect of mitosis defect-induced senescence and cell death sensitization. Hepatology 2016; 64: 1105-1120.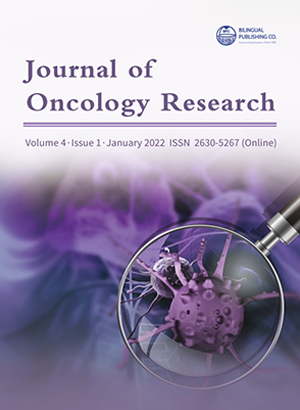 Downloads
How to Cite
Wang, Y., Jiang, L., Wang, X., Huang, Q., Wu, S., Yin, Y., Wang, J., Pan, X., & Yu, G. (2021). Abound Hepatic Mitosis: Unusual Morphology in the Intrahepatic Cholelithiasis Patient. Journal of Oncology Research, 4(1), 1–8. https://doi.org/10.30564/jor.v4i1.3736
License
Copyright and Licensing
The authors shall retain the copyright of their work but allow the Publisher to publish, copy, distribute, and convey the work.
Journal of Oncology Research publishes accepted manuscripts under Creative Commons Attribution-NonCommercial 4.0 International License (CC BY-NC 4.0). Authors who submit their papers for publication by Journal of Oncology Research agree to have the CC BY-NC 4.0 license applied to their work, and that anyone is allowed to reuse the article or part of it free of charge for non-commercial use. As long as you follow the license terms and original source is properly cited, anyone may copy, redistribute the material in any medium or format, remix, transform, and build upon the material.
License Policy for Reuse of Third-Party Materials
If a manuscript submitted to the journal contains the materials which are held in copyright by a third-party, authors are responsible for obtaining permissions from the copyright holder to reuse or republish any previously published figures, illustrations, charts, tables, photographs, and text excerpts, etc. When submitting a manuscript, official written proof of permission must be provided and clearly stated in the cover letter.
The editorial office of the journal has the right to reject/retract articles that reuse third-party materials without permission.
Journal Policies on Data Sharing
We encourage authors to share articles published in our journal to other data platforms, but only if it is noted that it has been published in this journal.