Investigating the in vitro Antitumor Structure-activity Relationship of a Range of Cannabinolic Acid Derivatives
Abstract
Aim: To investigate the in vitro structure-activity relationship (SAR) of a range of tetrahydrocannabinolic (THCA) and cannabidiolic (CBDA) derivatives using the PANC-1 tumor cell line (pancreas, ductal carcinoma). Materials and methods: The in vitro effects of a range of THCA and CBDA derivatives with different carbonyl group substituents were tested on the PANC-1 cells cell line using the CellTiter Glo Viability Assay (72 hours) and the XTT assay (48 hours). Results: A study of a series of THCA and CBDA derivatives containing different functional groups at the carbonyl nitrogen atom demonstrated that THCA amides have better inhibitory activity, on the PANC-1 tumor cell line, than CBDA derivatives. Conclusions: THCA derivatives have better inhibitory activity than CBDA analogs with the same substituents. It is noteworthy that even a slight change in the structure of the substituent of the amide or hydrazone moiety of the molecule has a dramatic effect on the activity of these compounds.
Keywords:
THCA, CBDA, PANC-1, SAR
References
[1] Daniel, A., Ladin, D.A., Soliman, E., et al., 2016. Preclinical and clinical assessment of cannabinoids as anti-cancer agents. Front Pharmacology. 7, 1-18. DOI: https://doi.org/10.3389/fphar.2016.00361
[2] Śledziński, P., Zeyland, J., Słomski, R., et al., 2017. The current state and future perspectives of cannabinoids in cancer biology. Cancer Medicine. 7, 765- 775. DOI: https://doi.org/10.1002/cam4.1312
[3] Kovalchuk, O., Kovalchuk, I., 2020. Cannabinoids as anticancer therapeutic agents. Cell Cycle. 1-29. DOI: https://doi.org/10.1080/15384101.2020.1742952
[4] Abrams, D.I., Guzmán, M., 2015. Cannabis in Cancer Care. Clinical Pharmacology & Therapeutics. 97, 575-586. DOI: https://doi.org/10.1002/cpt.108
[5] Velasco, G., Sánchez, C., Guzmán, M., 2016. Anticancer mechanisms of cannabinoids. Current Oncology. 23, 23-32. DOI: http://dx.doi.org/10.3747/co.23.3080
[6] Byunghyuck, J., Jungkyu, K.L., Jungdam, K., et al., 2019. Chemistry Asian Journal. 1-15. DOI: https://doi.org/10.1002/asia.201901179
[7] Aizikovich, A., 2021. Cannabinoids and cancer-what's next? Journal of Biomedical Science. 233- 236. DOI: https://doi.org/10.34297/AJBSR.2021.14.001983
[8] Aizikovich, A. Cannabinolic acid derivatives and used thereof. Patent US 20210087159.
[9] Aizikovich, A., 2021. In vitro activity of novel cannabinoids derived from tetrahydrocannabinolic acid on various human tumor cell lines. Journal of Oncology Research. 3(2), 55-59.
[10] Aizikovich, A., 2020. Anticancer Effect of New Cannabinoids Derived from Tetrahydrocannabinolic Acid on PANC-1 and AsPC-1 Human Pancreas Tumor Cells. Journal of Pancreatic Cancer. 6(1), 40-44. DOI: https://doi.org/10.1089/pancan.2020.0003
[11] Zhang, J.H., Chung, D.Y., Oldenburg, K.R., 1999. A Simple Statistical Parameter for Use in Evaluation and Validation of High Throughput Screening Assays. Journal of Biomolecular Screening. 4, 67-73. DOI: https://doi.org/10.1177/108705719900400206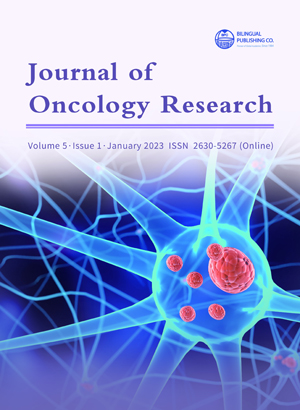 Downloads
How to Cite
Aizikovich, A. (2022). Investigating the in vitro Antitumor Structure-activity Relationship of a Range of Cannabinolic Acid Derivatives. Journal of Oncology Research, 5(1). https://doi.org/10.30564/jor.v5i1.5115
License
Copyright and Licensing
The authors shall retain the copyright of their work but allow the Publisher to publish, copy, distribute, and convey the work.
Journal of Oncology Research publishes accepted manuscripts under Creative Commons Attribution-NonCommercial 4.0 International License (CC BY-NC 4.0). Authors who submit their papers for publication by Journal of Oncology Research agree to have the CC BY-NC 4.0 license applied to their work, and that anyone is allowed to reuse the article or part of it free of charge for non-commercial use. As long as you follow the license terms and original source is properly cited, anyone may copy, redistribute the material in any medium or format, remix, transform, and build upon the material.
License Policy for Reuse of Third-Party Materials
If a manuscript submitted to the journal contains the materials which are held in copyright by a third-party, authors are responsible for obtaining permissions from the copyright holder to reuse or republish any previously published figures, illustrations, charts, tables, photographs, and text excerpts, etc. When submitting a manuscript, official written proof of permission must be provided and clearly stated in the cover letter.
The editorial office of the journal has the right to reject/retract articles that reuse third-party materials without permission.
Journal Policies on Data Sharing
We encourage authors to share articles published in our journal to other data platforms, but only if it is noted that it has been published in this journal.