Research and Analysis of Machine Learning Algorithm in Artificial Intelligence
Abstract
This article firstly explains the concepts of artificial intelligence and algorithm separately, then determines the research status of artificial in-telligence and machine learning in the background of the increasing pop-ularity of artificial intelligence, and finally briefly describes the machine learning algorithm in the field of artificial intelligence, as well as puts for-ward appropriate development prospects, in order to provide theoretical reference for industry insider
Keywords:
artificial intelligence, machine learning , algorithmapplication of science and technology
References
[1] Xie Juanying, Liu Ran. Research progress of target detection algorithm based on deep learning[J]. Jour-nal of Shaanxi Normal University (Natural Science Edition), 2019(5):1-9.
[2] Sun Shaojing, Chen Changfeng, Li Shigang. Devel-opment and Challenge of 'Algorithm Recommen-dation and Artificial Intelligence'[J]. Journalism Bimonthly, 2019(6):40-47.
[3] Tian Qichuan, Wang Manli. Research progress of deep learning algorithms[J]. Computer Engineering and Applications, 2019(22):25-33.
[4] Chang Yingchun. Anomaly detection of game artifi-cial intelligence based on layered time series memory algorithm[D]. Journal of Hebei University of tech-nology, 2015.
[5] Gan Jingzhong, Yang Xiulan, Lv Jie. Overview of Unsupervised Learning Algorithms in Artificial In-telligence[J]. Technology and Industry Across the Straits, 2019(1):134-135.
[6] Klaus Mainzell. Artificial Intelligence and Machine Learning: Algorithm Basics and Philosophical Per-spectives[J]. Journal of Shanghai normal university (Philosophy and Social Sciences), 2018(3):13-24.
[7] Zhou Jin. Deep learning algorithms on artificial intel-ligence[J]. Computer Programming Skills & Mainte-nance, 2019, (7):115-117.
[8] Huang Fayang. Face Recognition Technology Based on Neural Network Deep Learning Algorithm[J]. In-telligent building, 2018(10):65-67.DOI: https://doi.org/10.30564/aia.v2i2.1801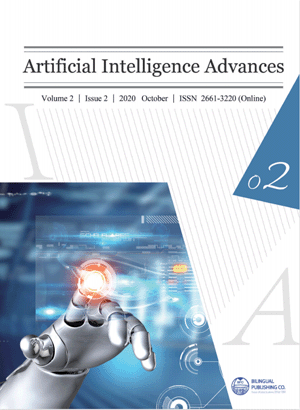 Downloads
How to Cite
Li, Y. (2020). Research and Analysis of Machine Learning Algorithm in Artificial Intelligence. Artificial Intelligence Advances, 2(2), 88–91. https://doi.org/10.30564/aia.v2i2.1801
Downloads
Download data is not yet available.
License
Copyright © 2020 Yang Li
This is an open access article under the Creative Commons Attribution-NonCommercial 4.0 International (CC BY-NC 4.0) License.