Knowledge Sharing and Innovation in Small Medium Enterprises (SMEs) Moderated by Creative Leadership
Abstract
The purpose of this study is to analyze the role of creative leadership in moderating the influence of knowledge sharing on innovation in the SMEs of leather craft industry in Badung Regency. The population of this study is employees of the leather craft industry of which the data were obtained from Bali Province Industry and Trade Office. The data of 2019 show that there is a population of as many as 115 employees in the industry, and by using the Slovin formula, the samples obtained are 53 respondents. The collected data were analyzed using Right Moderating Regression Analysis (MRA). The results show that knowledge sharing has a significant effect on innovation. Creative leadership has a significant effect on innovation. Furthermore, the findings of this study indicate that creative leadership can strengthen the influence of knowledge sharing to support innovation. The implications of this study inform that creative leadership plays an important role because it can amplify the effect of the activities of cultural knowledge sharing to create innovation.
Keywords:
SMEs, Knowledge sharing, Creative leadership, Innovation
References
[1] Sekretariat Daerah Pemerintah Provinsi Bali, & Fakultas Ekonomi dan Bisnis Universitas Udayana. (2015). Roadmap Usaha Mikro Kecil Menengah Dan Koperasi (UMKM-K) Provinsi Bali 2016-2020. No. SPK 074/2311/PLP.EKBANG.
[2] Ikeda, K., & Marshall, A. (2016). How successful organizations drive innovation. Strategy & Leadership, 44(3), 9 – 19.
[3] Aromaa, E., Eriksson, P., Mills, J. H., Hiltunen, E., Lammassaari, M., & Mills, A. J. (2019). Critical sensemaking: challenges and promises. Qualitative Research in Organizations and Management: An International Journal, 1746-5648.
[4] Al-Kurdi, O., El-Haddadeh, R., & Eldabi, T. (2018). Knowledge sharing in higher education institutions: a systematic review. Journal of Enterprise Information Management, 31 (2), 226 – 246.
[5] Singh, S. K., Gupta, S., Busso, D., & Kamboj, S. (2019). Top management knowledge value, knowledge sharing practices, open innovation and organizational performance. Journal of Business Research.
[6] Putra, A.A. N. U. T. & Adnyani, I G. A. D. (2018). Pengaruh Knowledge Sharing Behavior Dan Organizational Citizenship Behavior (Ocb) Terhadap Kinerja Karyawan. E-Jurnal Manajemen Unud, 7(9), 4998 – 5023.
[7] Allameh, S. M. (2018). Antecedents and consequences of intellectual capital: The role of social capital, knowledge sharing and innovation. Journal of Intellectual Capital, 19(5), 858 – 874.
[8] Grant, S. B. (2016). Classifying emerging knowledge sharing practices and some insights into antecedents to social networking: A case in insurance. Journal of Knowledge Management, 20(5), 898 – 917.
[9] Lin, S. W., & Lo, L. Y. S. (2015). Mechanisms to motivate knowledge sharing: Integrating the reward systems and social network perspectives. Journal of Knowledge Management, 19(2), 212 – 235.
[10] Wang, Z., Wang, N., & Liang, H. (2014). Knowledge sharing, intellectual capital and firm performance. Management Decision, 52(2), 230 – 238.
[11] Zhang, X., & Jiang, J. Y. (2015). With whom shall I share my knowledge? A recipient perspective of knowledge sha ring. Journal of Knowledge Management, 19(2), 277– 295.
[12] Charterina, J., Landeta, J., & Basterretxea, I. (2018). Mediation effects of trust and contracts on knowledge-sharing and product innovation. European Journal of Innovation Management, 21(2), 274 – 293.
[13] Yang, B. (2018). Modeling the effects of innovative leadership on productivity and profitability, Journal of Scientific, 77, 164-167.
[14] Avakyan, M. (2018, October). Creative leadership: presumptions and methods of realization. In 2nd International Conference on Social, Economic and Academic Leadership (ICSEAL 2018). Atlantis Press. 217, 325 – 328.
[15] Ezzat, H., Le Masson, P., & Weil, B. (2017, June). Leading in the unknown with imperfect knowledge: Situational creative leadership strategies for ideation management.
[16] Ratih, I. A. D. K., Supartha, W. G., Dewi, I. G. A. M., & Sintaasih, D. K. (2016). Creative Leadership, Knowledge Sharing and Innovation: Evidence of Small and Medium Enterprises, 8(5), 15 – 27.
[17] Han, Y., & Chen, G. (2018). The relationship between knowledge sharing capability and innovation performance within industrial clusters. Journal of Chinese Economic and Foreign Trade Studies, 11(1), 32 – 48.
[18] Aligholi. M., & Asefikia. M., (2015).The Relationship between knowledge Sharing and innovation and their impact on market development. Applied mathematics in Engineering, Management and Technology, 3(2), 1 – 9.
[19] Gunawan, H., & Wardana, A. W. (2018). Knowledge Sharing Sebagai Mediasi Antara Employee Engagement Terhadap Kinerja Pengemudi Gojek Di Yogyakarta. Briliant: Jurnal Riset dan Konseptual, 3(4), 411-424.
[20] Riana, I. G., Rihayana, I. G., & Kumala Ratih, I. A. D. (2019). Creating innovation through knowledge sharing and absorptive capacity. Polish Journal of Management Studies, 19(1), 338 – 352.
[21] Hidayat, N., & Lee, C. W. (2018). The effect of knowledge sharing on the service innovation performance: An empirical study on restaurant in North Kalimantan, Indonesia. Jurnal Metris, 19(1), 31 – 6.
[22] Zaitouni, M., & Ouakouak, M. L. (2018). The impacts of leadership support and coworker support on employee creative behavior. International Journal of Productivity and Performance Management, 67(9), 1745 – 1763.
[23] Wen, Q., & Qiang, M. (2016). Coordination and knowledge sharing in construction project-based organization: a longitudinal structural equation model analysis. Automation in Construction, 72, 309-320.
[24] Choi, S. B., Kim, K., Ullah, S. E., & Kang, S. W. (2016). How transformational leadership facilitates innovative behavior of Korean workers. Personnel Review, 45(3), 459-479.
[25] Le, P. B., & Lei, H. (2017). How transformational leadership supports knowledge sharing. Chinese Management Studies, 11(3),479-497.
[26] Ritala, P., Husted, K., Olander, H., & Michailova, S. (2018). External knowledge sharing and radical innovation: the downsides of uncontrolled openness. Journal of Knowledge Management, 22(5),1104-1123.
[27] Prasad, B., & Junni, P. (2016). CEO transformational and transactional leadership and organizational innovation. Management Decision, , 54(7), 1542-1568.
[28] Mainemelis, C., Kark, R., & Epitropaki, O. (2015). Creative leadership: A multi-context conceptualization. Academy of Management Annals, 9(1), 393-482
[29] Ghorbani, M., & Ahmadi, S. (2011). Relationship between employee's empowerment dimensions and creativity improvement in educational organizations. Middle-East Journal of Scientific Research, 10(2), 213 – 217.
[30] Mahmood, M., Uddin, M. A., & Fan, L. (2019). The influence of transformational Leadership on emplyees' creative process engagement. Management Decision, 57(3), 741-764
[31] Bosiok, D. (2013). Leadership styles and creativity. Online Journal of Applied Knowledge Management (OJAKM), 1(2), 64 – 77.
[32] Rogers, E. M. (2003). Diffussiion of innovation 5th ed. Chen, A. S. Y., & Hou, Y. H. (2016). The effects of ethical leadership, voice behavior and climates for innovation on creativity: A moderated mediation examination. The Leadership Quarterly, 27(1), 1 – 13.
[33] Hwang, Y., Lin, H., & Shin, D. (2018). Knowledge system commitment and knowledge sharing intention: The role of personal information management motivation. International Journal of Information Management, 39, 220 – 227.
[34] Jain, R., & Sharma, P. (2012). Creative Abilities of Indian Managers and Blocks to Creativity Enhancement: An Empirical Study. Management and Labour Studies, 37(1), 1 – 16.
[35] Sugiyono. (2017). Metode Penelitian Kuantitatif, Kualitatif, dan R&D. Bandung: Alfabeta, CV.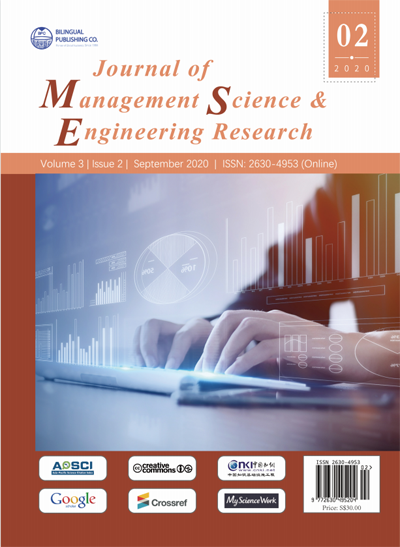 Downloads
Additional Files
How to Cite
Novi Diansari, N. M., Riana, I. G., & Surya, I. B. K. (2021). Knowledge Sharing and Innovation in Small Medium Enterprises (SMEs) Moderated by Creative Leadership. Journal of Management Science & Engineering Research, 3(2), 39–45. https://doi.org/10.30564/jmser.v3i2.2615
Downloads
Download data is not yet available.