A Study of the Guidelines for the Planning and Design of Circular Buildings
Abstract
Circular building is one of the key turning points in the movement of the construction industry towards sustainable development. It is a "circulation" and "human" idea aimed at balancing the construction and design of the residential environment with the responsibility and values of environmental resources and ecology. This study was focused on the formulation of planning and design guidelines that comply with the current circular building centred economy. Input from industry operatives was collected using semi-structural interviews and a pyramidal approach was employed using logical reasoning to set up planning and design objectives as well as specifications in 4 dimensions covering 12 items. The results provide substantial references for the promotion of current environmental codes compliant with circular building. They can also be used to shape up resource circulation in the construction industry, and help to meet the many needs of sustainable development in the planning and design of circular buildings.
Keywords:
Circular building, Sustainable development, Residential environment, Pyramidal approach, Construction industry
References
[1] Chang, A.P., Chang, S.L., 2020. Build up circular city planning index with EAM. EI. Earth and Environmental Science. 531. DOI: https://doi.org/10.1088/1755-1315/531/1/012016
[2] Chang, A.P., Chang, S.L., 2019. A Study of the Industrial Circular Economy Using an Essence Analysis. Journal of Business Administration Research. 2(4), 33-38. DOI: https://doi.org/10.30564/jbar.v2i4.1222
[3] Brand, S., 2021. "Shearing Layers" of a building and a template. Retrieved from http://www.locatearchitects.co.uk/seda-lg.htm.
[4] Chang, A.P., Chu, T.J., Hwang, C.L., Lin, J.D., 2015. Study of PDRI for the Project Management of Intelligent Green Building. EI. Journal of Quality. 22(4), 61-76. DOI: https://doi.org/10.6220/joq.2015.22(4).02 [5] Minto, B., 2003. The Minto Pyramid: Logic in Writing, Thinking and Problem Solving. EcoTrend Publications, The England.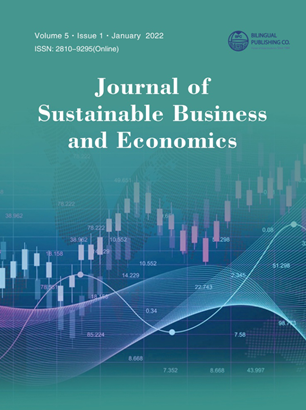 Downloads
How to Cite
Chang, A., & Wang, A. (2022). A Study of the Guidelines for the Planning and Design of Circular Buildings. Journal of Sustainable Business and Economics, 5(1), 14–19. https://doi.org/10.30564/jsbe.v5i1.5
Section
Short Communications
Downloads
Download data is not yet available.
License
Copyright (c) 2022 Anpi Chang, Anqi Wang
This work is licensed under a Creative Commons Attribution 4.0 International License.