The Study on the Corrosion Behaviour of Welded and Unwelded Medium Carbon Steel in Sodium Chloride (Nacl) Solutions
Abstract
The research work was based on the study of the corrosion behaviour of the welded and un-welded medium carbon steel in sodium chloride solutions. The Sodium chloride solutions used are 1ml, 2ml, 3ml and 4ml for both welded and un-welded medium carbon steel in NaCl. The experiments were conducted in two ways, the weight loss analyses of measurements and using the electrochemical analyzer workstation to determine the potential dynamic of the samples. The samples for the weight loss measurements were prepared from rolled products obtained at the foundry shop. Two medium carbon steel materials were sourced with different chemical compositions as sample A and B. The materials were prepared to accommodate the experiments for the determination of welded and un-welded medium carbon steel. A total of sixty-eight (68) samples were produced, prepared and used for the weight loss measurements /analyses the experiments. Thirty-four of the samples each were prepared for both the welded and un-welded experiments. All the samples were produced and prepared through the use of various machining processes with the use of a lathe machine for planning, milling. Thirty-four (34) of the sample preparation were further welded in readiness of the experiments. Sixty -eight breakers were sourced for and used. Ten (10) other samples were used for the determination with the use of the electrochemical analyzer. The chemical compositions of the medium carbon steel were determined with the use of SPECTRO Analytical Instruments. A metallurgical inverted optical microscope was used to determine the microstructures of the materials. The Scanning Electron Microscopy with EDS was used to determine the morphologies of the materials. The thirty-four of the samples were welded this process was performed to determine the effects of welding on the material surrounding the weldments. These materials were made into sizes with the use of power hacksaw (i.e. 2cm by 2cm). Other materials were prepared to 1cm x 1cm thickness from the same materials. The Tafel plot experiments and that of the open Circuit Potential Time (OCPT) were carried out with the use of Electrochemical Analyzer/ Workstation. The Medium carbon steel materials were exposed for fifty-four (54) days, with an interval of 3days. The corrosion rates analyses were determined and the graphs of the corrosion rates (mm/yr.) and other parameters were used plotted against No of days exposed.
Keywords:
Corrosion behaviour, Welded, Un-welded, Medium carbon steel, Sodium chloride solution
References
[1] Revie, R.W., Uhlig, H.H. Corrosion and Corrosion Control. An Introduction to Corrosion Science and Engineering. 4th Edition, John Wiley & Sons, New Jersey, 2008
[2] Treseder, R. S. NACE Corrosion Engineer's Reference Book, 3rd edition. Houston: NACE. 2002
[3] Mattson, E. Basic Corrosion Technology for Scientists and Engineers. Second Edition, Bourne Press, Bournemouth, United Kingdom, 1996
[4] Ginzel E.A. Ginzel R.K. Study of acoustic velocity variations in line pipe steel. PBD, 1995, 53(5).
[5] Ginzel E.A., Ginzel R.K. Ultrasonic Properties of A New Low Attenuation Dry Couplant Elastomer. Materials Research Institute [20K Text / 15K in 3 Gif], 1995
[6] Callister, W.D. Jr. Materials Science and Engineering. 1997, 511-531.
[7] Smith, W.F., Hashemi, J. Foundations of Materials Science and Engineering. 4th Edition; Mcgraws - Hill Book. 2006: 28 - 36.
[8] Badmos, A. Y., Ajimotokan, H. A., Emmanuel E. O. Corrosion in Petroleum Pipelines. New York Science Journal, 2009, 2: 36-40.
[9] Leidheiser H, Granata R.D, R. Turoscy R. Technical Note: Alkali Metal Ions as Aggressive Agents to Polymeric Corrosion Protective Coatings. Corrosion. 1987, 43(5): 296-297.
[10] Osarolube, E., Owate, I. O., Oforka, N. C. Corrosion behaviour of mild and high carbon steels in various acidic media. Scientific Research and Essay, 2008, 3 (6): 224-228. Available online at: http://www.academicjournals.org/SRE ISSN 1992- 2248 © 2008 Academic Journals (20) (PDF) Corrosion behaviour of mild and high carbon steels in various acidic media. Available from: https://www.researchgate./publication/279711726_Corrosion_behaviour_of_mild_and_high_carbon_steels_in_various_acidic_media
[11] Fontana M. G. Corrosion Engineering. McGraw-Hill, 1986 - Technology & Engineering 1986: 556.
[12] Electrochemical Analyzer /Workstation Model 600E Series User Manual 2014: 84.
[13] Tetretheway et at. Synergistic effect of cavitation erosion and corrosion of various engineering alloys in 3.5% NaCl solution Materials Science and Engineering. 2000, 290(1-2): 145-154.
[14] Narayanan Sankra T.S.N. Corrosion and Corrosion Preventive Methods. National Metallurgical Laboratory Madras Centre CSIR Complex Taramani, Chennai -600113.
[15] Mattson H. Richard. Introduction and Symposium Overview. First published: December 1996. ISBN: 9780471732792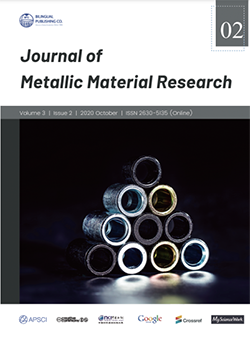 Downloads
How to Cite
Ocheri, C., Obiorah, H. A., Njoku, R. E., Urama, N. A., Agboola, J. B., Mbah, C. N., Ezeanyanwu, J. N., & Onyia, C. W. (2020). The Study on the Corrosion Behaviour of Welded and Unwelded Medium Carbon Steel in Sodium Chloride (Nacl) Solutions. Journal of Metallic Material Research, 3(2), 1–16. https://doi.org/10.30564/jmmr.v3i2.2400
Downloads
Download data is not yet available.
License
Copyright © 2020 Cyril Ocheri, Hebert. A. Obiorah, Joseph Babalola Agboola, Christopher Nwankwo Mbah, Chikezie Walter Onyia, Johnson Nwaemezie Ezeanyanwu, Romanus Egwuonwu Njoku, Nnaemeka Anthony Urama
This is an open access article under the Creative Commons Attribution-NonCommercial 4.0 International (CC BY-NC 4.0) License.