Determination of Business Strategies Using SWOT Analysis; Planning and Managing the Organizational Resources to Enhance Growth and Profitability
Abstract
A SWOT analysis is the method to evaluate the internal weaknesses and strengths of an organization as well as evaluating the threats and opportunities of its external environment. This is considered as an effective framework to plan and manage the organizational resources to achieve certain goals in a specific period of time. The purpose of implementing SWOT analysis in an organization is to formulate the strategy of a business based on existing internal and external factors. There may be several disadvantages associated with running a SWOT analysis; however, its efficiency in determining the future strategy of a business is more indeed. Although the origin of SWOT analysis is uncertain, there is a long historical background about its uses to facilitate the decision-making process in every complex environment. The final result of a SWOT analysis can be presented in a matrix which is a combination of the four factors and determines strengths and weaknesses that a company involves, with opportunities and threats that it may face. This article provides a study of SWOT analysis basics and provides several practical insights of steps to provide a SWOT matrix.
Keywords:
SWOT, SWOT analysis, Business, Strategic planning, Business success, Growth and profitability
References
[1] Arnott, D. (2008) Success Factors for Data Warehouse and Business Intelligence Systems, AIS Electronic Library, ACIS 2008 Proceedings, Christchurch, New Zealand.
[2] Collins-Kreiner, N.; Wall, G. 2007. Evaluating tourism potential: A SWOT analysis of the Western Negev, Israel. Tourism 55, 51-63.
[3] Foong, L M. 2007. Understanding of SWOT Analysis [online]. Available online from https://article.tqmcasestudies.com/free-tqm-ebook/swot-analysis.pdf.
[4] Helms, Marilyn M.; Nixon, Judy. 2010. Exploring SWOT Analysis- where are we now? A review of academic research from the last decade. Journal of Strategy and Management, Vol. 3 No. 3, pp. 215-251.
[5] Namugenyi, Christine; Nimmagadda, Shastri L; Reiners, Torsten. 2019. Design of a SWOT Analysis Model and its Evaluation in Diverse Digital Business Ecosystem Contexts, Procedia Computer Science, Volume 159. Pages 1145-1154.
[6] Oreski, Dijana. 2012. Strategy development by using SWOT – AHP, TEM Journal – Volume 1 / Number 4 / 283-291.
[7] Osita, Ifediora; Onyebuchi R., Idoko; Justina, Nzekwe. 2014. Organization's stability and productivity: the role of SWOT analysis an acronym for strength, weakness, opportunities and threat. International Journal of Innovative and Applied Research. Volume 2. 23-32.
[8] Smith, Howard. 2006. Process Innovation: P-TRIZ 6 beyond SWOT and Toward Change.
[9] Taherdoost, H., et al. 2014, Perceived Barriers and Benefits of Web Based Services, International Conference on Computational Science and Computational Intelligence, 10-13 March, Las Vegas, USA, Page: 34-38.
[10] Yuksel, I.; Dagdeviren, M. 2007. Using the analytic network process (ANP) in a SWOT analysis – A case study for a textile firm, Information Sciences 177: 3364-3382.
[11] Gürel, Emet; Tat, Merba. 2017. SWOT ANALYSIS: A THEORETICAL REVIEW. Journal of International Social Research. DOI: https://doi.org/10.17719/jisr.2017.1832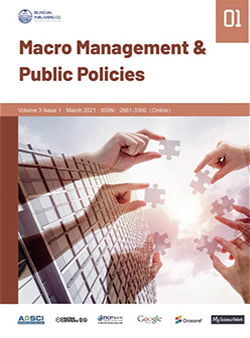 Downloads
How to Cite
Taherdoost, H., & Madanchian, M. (2021). Determination of Business Strategies Using SWOT Analysis; Planning and Managing the Organizational Resources to Enhance Growth and Profitability. Macro Management & Public Policies, 3(1), 19–22. https://doi.org/10.30564/mmpp.v3i1.2748
Downloads
Download data is not yet available.
License
Copyright © 2021 Author(s)
This is an open access article under the Creative Commons Attribution-NonCommercial 4.0 International (CC BY-NC 4.0) License.