Petrographic Characteristics and Geochemistry of Volcanic Rocks in the Kyaukmyet Prospect, Monywa District, Central Myanmar
Abstract
The Kyaukmyet prospect lies approximately 5 km ENE of the highsulfidation Kyisintaung copper-gold deposit, Monywa district, central Myanmar. Geologically, the research area is remarked by magmatic extrusion that occurred during the Late Oligocene to Middle Miocene of Magyigon Formation which led to the outcrops of volcanic rocks. Study detailed on petrographical and geochemical of the Kyaukmyet volcanic rocks has not been performed before the present work. The principal aim of this paper is to document the petrographical and geochemical characteristics of volcanic suite rocks exposed in the Kyaukmyet prospect. The results of this data have provided insight into the origin of the rocks and petrogenetic processes during evolution. Petrographically, all the studied volcanic rocks in the research area show that trachytic and porphyritic textures with phenocrysts of quartz, plagioclase, and K-feldspar which are embedded in a fine to medium grained groundmass. The accessory minerals of this rock consist of biotite, chlorite and opaque mineral.Geochemically, these volcanic rocks having calc-alkaline nature and classified as volcanic field (rhyolite) as well as volcanic arc setting. Based on the chondrite normalized spider diagram, LREE has enriched to HREE in this area which indicated negative Eu anomaly and subduction tectonic setting.
Keywords:
Geochemistry, Petrography, Volcanic rocks, Calc-alkaline, Kyaukmyet prospect, Monywa district
References
[1] Searle, M.P., Noble, S.R., Cottle, J.M., Waters, D.J.,Mitchell, A.H.G., Hlaing, T. and Horstwood,M.S.A.Tectonic Evolution of the Mogok Metamorphic Belt,Burma (Myanmar) Constrained by U-Th-Pb Dating of Metamorphic and Magmatic Rocks. Tectonics,2017, 26, TC2083.
[2] Mitchell, A.H.G., Htay, M.T., Htun, K.M., Win, M.N.,Oo, T. and Hlaing, T. Rock Relationships in the Mogok Metamorphic Belt, Tatkon to Mandalay, Central Myanmar. Journal of Asian Earth Sciences, 2007,29, 891-910.
[3] Lee, H.-Y., Chung, S.-L. and Yang, H.-M. Late Cenozoic Volcanism in Central Myanmar:Geochemical Characteristics and Geodynamic Significance. Lithos, 2016, 245, 174-190.
[4] Liu, C.Z., Chung, S.-L., Wu, F.-Y., Zhang, C., Xu, Y.,Wang, J.-G., Chen, Y. and Guo, S. Tethyan Suturing in Southeast Asia: Zircon U-Pb and Hf-O Isotopic Constraints from Myanmar Ophiolites.Geology,2016, 44, 311-314.
[5] Gardiner, N.J., Robb, L.J. and Searle, M.P. The Metallogenic Provinces of Myanmar. Applied Earth Science, 2014, 123, 25-38.
[6] Zaw, K., Meffre, S., Lai, C.K., Burrett, C., Santosh,M., Graham, I., Manaka, T., Salam, A.,Kamvong, T.,Cromie, P. Tectonics and metallogeny of mainland Southeast Asia - A review and contribution. Gondwana Res, 2014, 26 (1), 5-30.
[7] Mitchell, A.H.G., Chung, S.L., Oo, T., Lin, T.H.,Hung, C.H. Zircon U-pb ages in Myanmar: Magmatic-metamorphic events and the closure of a neo Tethys ocean? J. Asian Earth Sci. 2012, 56,1-23.
[8] United Nations. Geology and Exploration Geochemistry of the Pinlebu-Banmauk area, Sagaing Division,Northern Burma "Draft", Technical Report No. 2.DP/UN/ BUR-72-002, Geological Survey and Exploration Project. United Nations Development Programme. United Nations, New York, 1978, p. 69).
[9] Knight, J., Zaw, K. The geochemical and geochronological framework of the Monywa high sulfidation Cu and low sulfidation Au-epithermal deposits,Myanmar. Poster No. 104 presented at the SEG, Conference; 27-30 September, 2015, Hobart, Tasmania,Australia.
[10] Mitchell, A.H.G., Myint, W., Lynn, K., Htay, M.T.,Oo, M., Zaw, T. Geology of the High Sulfidation Copper Deposits, Monywa Mine, Myanmar. Resource Geology, 2011, 61: 1-29.
[11] Zaw, K. Comments on transcurrent movements in the Myanmar-Andaman Sea region. Geology, 1989, 17:93−95.
[12] Zaw, K. Geological, petrological and geochemical characteristics of granitoid rocks in Burma: with special reference to the associated W-Sn mineralization and their tectonic setting. Journal of Southeast Asian Earth Sciences, 1990, 4: 293-335.
[13] Htet, W.T. Volcanic-hosted gold-silver mineralization in the Monywa mining district, central Myanmar. PhD. Dissertation, 2008, Mandalay University,Myanmar.
[14] Pearce, J. A. A user's guide to basalt discrimination diagrams. In: Wyman, D. A. (ed.) Trace Element Geochemistry of Volcanic Rocks: Applications for Massive Sulfide Exploration. Geological Association of Canada, Short Course Notes, 1996, 12, 79-113.
[15] Pearce, J. A. Trace element characteristics of lavas from destructive plate boundaries. In: Thorpe R.S.(ed.) Andesites: Orogenic Andesites and Related Rocks. John Wiley & Sons, Chichester, 1982, pp. 525-548.
[16] Watters, B.R. and Pearce, J.A. Metavolcanic rocks of the La Ronge Domain in the Churchill Province, Saskatchewan: geochemical evidence for a volcanic arc origin, in: Pharaoh, T.C., Beckinsale, R.D., Richard,D. (Eds.), Geochemistry and Mineralization of Pro-terozoic Volcanic Suites Geological Society, Special Publications, 1987, vol.33, pp. 167-182.
[17] Irvine, T.N., and Baraga, W.R.A. A guide to the chemical classification of the common volcanic rocks. Can. Ɉ. Earth Sci, 1971, 8, 523-548.
[18] Wilson M. Igneous petrogenesis, 1989, Unwin Hyman, London.
[19] Boynton, W.V. Cosmochemistry of the Rare Earth Elements: Meteorite Studies. In: Henderson, P., Ed.,Developments in Geochemistry, Elsevier Sci. Publ.Co., Amsterdam, 1984, 63-114.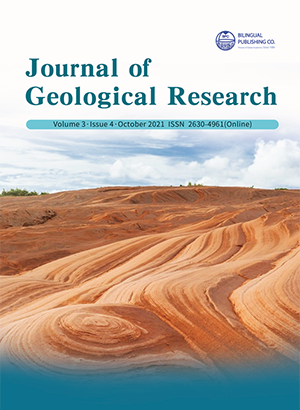 Downloads
License
Copyright © 2021 Toe Naing Oo, Agung Agung, Lucas Donny Setijadji
This is an open access article under the Creative Commons Attribution-NonCommercial 4.0 International (CC BY-NC 4.0) License.
Copyright and Licensing
The authors shall retain the copyright of their work but allow the Publisher to publish, copy, distribute, and convey the work.
Journal of Geological Research publishes accepted manuscripts under Creative Commons Attribution-NonCommercial 4.0 International License (CC BY-NC 4.0). Authors who submit their papers for publication by Journal of Geological Research agree to have the CC BY-NC 4.0 license applied to their work, and that anyone is allowed to reuse the article or part of it free of charge for non-commercial use. As long as you follow the license terms and original source is properly cited, anyone may copy, redistribute the material in any medium or format, remix, transform, and build upon the material.
License Policy for Reuse of Third-Party Materials
If a manuscript submitted to the journal contains the materials which are held in copyright by a third-party, authors are responsible for obtaining permissions from the copyright holder to reuse or republish any previously published figures, illustrations, charts, tables, photographs, and text excerpts, etc. When submitting a manuscript, official written proof of permission must be provided and clearly stated in the cover letter.
The editorial office of the journal has the right to reject/retract articles that reuse third-party materials without permission.
Journal Policies on Data Sharing
We encourage authors to share articles published in our journal to other data platforms, but only if it is noted that it has been published in this journal.