Challenges of the Use of Instructional Materials in Geography Classroom in Secondary School: Nepal
Abstract
Geography is an optional subject in the secondary schools in Nepal. This paper is an attempt to examine the challenges of using instructional materials in the geography classroom in community secondary schools in Kathmandu district of Bagmati Province. Geography teachers were selected by purposive sampling offering geography as an optional subject in secondary school. The semi structured interview method was used for data collection. The interviews were recorded on an audio recorder and transcribed. After collecting data, analysis of the data was made through the interpretations of the raw data by interpretative method. The results reveal that the challenges of using materials are non-availability of materials,laziness of the teachers, lack of skill and strategies, financial constraint,lack of appropriate materials in textbook, time constraint, lack of support from authority, lack of geography resource room etc. The remedies of the challenges of using materials are the organizing of training and workshop for teachers on how to use instructional materials, provision of funds by the authorities and government, regular supervision, the improvisation of the local materials and the provision of the various instructional materials which are necessary for teaching etc.
Keywords:
Instructional materials, Geography lesson, Qualitative research, Quality teaching, Local materials
References
[1] Ikerionwu, J.C. Importance of aids and resources in classroom teaching. In A.M. Onyeneyin (ed).Perspectives of classroom teaching. Abuja: Martmonic Investment Ltd., 2000.
[2] Ofoefuna, M O. Functional approach to educational technology, Onitsha: Ofona. 1999, 52-61.
[3] Agbaegbu, T.V., Ezendu, I.A., Agwagor, C.S. Social studies instructions in Ilorin Metropolitan Environment. Ilorin: Satyadyhan, 1996.
[4] Ofune. Teaching practice a guide for student and teachers, Ibadan: Board Publication Limited, 2001.
[5] Olatian, S.O., Ali, A. Education and social sciences.Owerri:Cape Publishers, 1999.
[6] de Guzman, M. F. D. Basic geography workbook.Philippines: St Andrew Publishing, 2015.
[7] Usman, K. O., Adewunmi, A. O. Factors responsible for inability of teachers to improvise instructional materials for the teaching of Physics. Journal of Science Teachers Association of Nigeria,2006, 42(1):52-56.
[8] Effiong, E., Igiri, C.E. Impact of instructional materials in teaching and learning of biology in senior secondary schools in Yakurr LGA. International letters of social and humanistic science, 2015, 62:27-33.
[9] Kadzera, C.M. Use of instructional technologies in teacher training colleges in Malawi. Doctoral Dissertation,Virginia Polytechnic Institute And State University, 2006.
[10] Erickson, F.C. Qualitative methods in research on teaching. Old Tappan, Nj: Macmillan, 1976.
[11] Dhakal, K.R. Availability and utilization of instructional materials in teaching geography in secondary schools, The Geographic Base, 2019(6): 32-41.
[12] Onyeachu, J.A.E. Curriculum implementation at the primary education level challenges for the 21st century. Multidisciplinary Journal of Research Development, 2008, 10(1): 38 -49.
[13] Mason, J. Qualitative researching. London: Sage Publications, 1996.
[14] Kvale, S., Brinkman, S. Interviews: learning the craft of qualitative research interviewing. London:Sage Publications, 2009.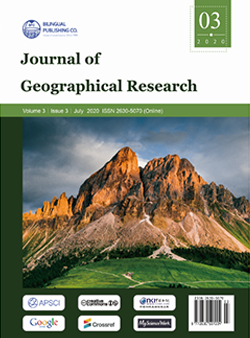 Downloads
How to Cite
Dhakal, K. R. (2020). Challenges of the Use of Instructional Materials in Geography Classroom in Secondary School: Nepal. Journal of Geographical Research, 3(3), 36–39. https://doi.org/10.30564/jgr.v3i3.2144
Downloads
Download data is not yet available.
License
Copyright © 2020 Keshav Raj Dhakal
This is an open access article under the Creative Commons Attribution-NonCommercial 4.0 International (CC BY-NC 4.0) License.