Deforestation and Habitat Loss: Human Causes, Consequences and Possible Solutions
Abstract
Deforestation leads to habitat loss while preservation and conservation of the natural forest increase biological diversity. Multiple factors have been reported to be responsible for deforestation and habitat loss, which could either be of human or natural origin.Natural causes of deforestation could be as a result of forest fires, droughts, exotic animals, floods, overpopulation of foreign animals and climate change. That notwithstanding, human activities are among the principal causes of global deforestation and habitat loss with agricultural expansion, cattle breeding, timber extraction, mining,oil extraction, dam construction and infrastructure development as some examples of these human influences. This study identifies agricultural activities and urbanization as the chief causes of human induced deforestation and habitat loss on a large scale. The simple and more practicable approach to curb the already alarming effects of deforestation and habitat loss is through environmental education of everyone still surviving on our planet.Environmental education is the key to reversing continuous and deliberate human actions through the protection of every natural forest and afforestation where necessary.
Keywords:
Deforestation, Habitat loss, Environmental education, Agricultural expansion, Urbanisation
References
[1] Angelsen, A (2001). Deforestation. Forestation International Encyclopedia of the Social and Behavioural Sciences. https://doi.org/Scienecdirect.com/topic/economics-econometrics-and-finance/forestdegradation (Retrieved 20th October, 2020).
[2] Bodo, T (2018). Community Understanding of the Environmental and Socio-economic Consequences of Petroleum Exploitation in Ogoni, Rivers State, Nigeria. International Journal of Advanced Research and Publications. 2(11): 51-55.
[3] Bodo, T & David, L.K (2018). The Petroleum Exploitation and Pollution in Ogoni, Rivers State,Nigeria: The Community Perspective. European Scientific Journal. 14(32): 97-212.
[4] Bodo, T & Gimah, B.G (2018). Government Programmes in checking the occurrence of habitat loss and their implications for maintaining sustainable environment in Ogoni, Rivers State, Nigeria.European Journal of Biomedical and Pharmaceutical Sciences.5(12): 64-71.
[5] Bodo, T & Ukpong I.E (2018). Community Participation in the Remediation of Petroleum Impacted Sites in Ogoni, Rivers State, Nigeria. Multi-disciplinary Journal of Research and Development Perspectives.7(2): 97-104 (A publication of University of Calabar).
[6] Bodo, T (2019a). Garden City or Garbage City: the case of Port Harcourt Metropolis, Rivers State,Nigeria. Asian Journal of Advanced Research and Reports. 3(3):1-11.
[7] Bodo, T (2019b). Deep Issues behind the Crisis in the Niger Delta Region: The Case of Oil Exploration in Ogoniland, Rivers State, Nigeria. Asia Journal of geographical Research. 2(1):1-12.
[8] Bodo, T (2019c). Rapid Urbanisation Problems and Coping Strategies of Port Harcourt Metropolis,Rivers State, Nigeria. Annals of Geographical Studies.2(3): 32-45.
[9] Bodo, T & Bodo, C.T (2019). The Applicability of the Rule in Rylands V. Fletcher to Petroleum Activities in Nigeria. Asian Journal of Advance Research Reports. 3(1): 1-10.
[10] Bodo, T & Gimah, B.G (2019a). Curbing human activities that degrade the environment: the relevance of environmental adult education. Earth & Environmental Science Research and Review,2(5):1-7.
[11] Bodo, T & Gimah, B.G (2019b). Oil Crisis in the Niger Delta Region of Nigeria: Genesis and Extent.European Scientific Journal. 15(36):141-158.
[12] Bodo, T & Gimah, B.G (2020). The destruction of the Niger Delta Ecosystem in Nigeria: Who is to be blamed? European Scientific Journal, 16 (5): 161-182.
[13] Bodo, T; Gimah, B.G & Seomoni, K.J (2020). Illegal Oil Bunkering in the Niger Delta Region of Nigeria:A Challenge to Nigeria's Development. European Scientific Journal, 16 (29): 134-154.
[14] Butler, A.R (2019). Consequences of deforestation.https://rainforests.monogabay.com/09-consequences-of-deforestation.html.
[15] Cook, M (2018). Four consequences of deforestation.Sciencing.Sciencing.com/four-consequences-deforestation-7622html (Retrieved 10 December, 2019).
[16] Cookey A.T; Bodo, T & Owunari, P.T (2019). Health risk implications among solid waste workers in Obio-Akpor Local Government Area of Rivers State.Asian Research Journal of Arts &Social Sciences.9(1): 1-6.
[17] David, L.K & Bodo, T (2019). Environmental Pollution and Health Challenges of the Ogoni People, Rivers State, Nigeria. International Journal of Advanced Research and Publication. 2(2): 28-32.
[18] David, L.K, Bodo, T & Gimah, B.G (2019). Petroleum pollution and decrease neuroplasticity in brain development of the Ogoni children in Rivers State,Nigeria. Journal of Advances in Medicine and Medical Research. 29(11): 1-13.
[19] Derouin, S (2019). Deforestation: causes & effects.https://www.livescience.com/27692-deforestation.html (Retrieved 10th September, 2020).
[20] Laurance, W.F (2010). Habitat destruction: Death by a thousand cuts. Oxford University Press.73-87.
[21] Meek, T (2019). Effects of deforestation. How agriculture cause deforestation?SentientMedia.sentientmedia.org (Retrieved 15th November, 2019).
[22] Igbinokpogie, J.O.Ogbeibn, A.E & Ighrakpa, I.U.(1990). Environmental Conservation Strategy for Bendel State, Nigeria (A proposedConservation education curriculum-formal and non-formal approach),PCEE Project Report. Jordanhill College Glassglow,UK.
[23] Meyer, A.L; Van Kooten & Wang, S (2003). Institutional, social, economical roots of deforestation: a cross-country comparism. International Foresty Review 5(1):29.
[24] Sola, O A (2014), Environmental Education and Public Awareness Journal of Educational and Social Research MCSER Publishing, Rome-Italy Vol. 4 No.3 May 2014.DOI:https://doi.org/10.5901/jesr.2014.v4n3p333.
[25] Tejaswi, G (2007). Manual on deforestation, degradation and fragmentation using remove sensing and GIS,Forestry Department, Food and Agriculture Organisation of the United Nations. MARSFM Working Paper 5.
[26] UNESCO-UNEP (1989). International Environmental Education Programme, Environmental Module on Environmental problems in cities, Division of Science, Technical and Vocational Education.
[27] Vasquez-Grandon, A; Donoso, P.J & Gerding, V (2018). Forest degradation: when is a forest degraded? Forest, 9, 726.
[28] Gimah B.G & Bodo T (2019) Creation of Awareness through Environmental Adult Education as a solution to the Problem of Habitat Loss in Ogoni, Rivers State, Nigeria. International Journal of Advanced Research and Publications. 3(1): 22-28.
[29] Jami Dwyer https://www.flickr.compho-tos/74281168@N00/173937750/.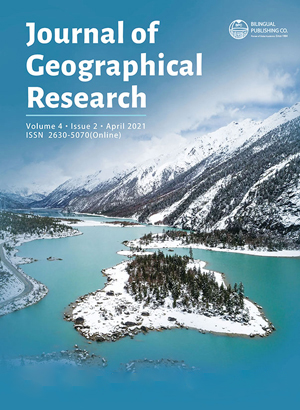 Downloads
How to Cite
Bodo, T., Gimah, B. G., & Seomoni, K. J. (2021). Deforestation and Habitat Loss: Human Causes, Consequences and Possible Solutions. Journal of Geographical Research, 4(2), 22–30. https://doi.org/10.30564/jgr.v4i2.3059
Downloads
Download data is not yet available.
License
Copyright © 2021 Tombari Bodo, Batombari Gbidum Gimah, Kemetonye Joy Seomoni
This is an open access article under the Creative Commons Attribution-NonCommercial 4.0 International (CC BY-NC 4.0) License.