Outlook of Cognitive Neuroscience
Abstract
Social science researches at present emphasize the construction of relations between multiple constructs. Psychological science is no exception. Before verifying whether their hypotheses are true with a questionnaire method or experimental method, scholars will check out the hot topics of recent years and construct multiple mediating and moderating relations first. They work on scattered topics that more or less overlap with many other disciplines. In previous years, the author focused on studying the youths with poor mental health in the new era of China, observing their moral choices in the corporate environment through game theory experiments. The conclusions are usually surprising- most new-generation youths choose to maximize their self-interests from between pro-social behaviors and risk aversion.
References
[1] Liu, B., Luo, L.C., Xiao, Q.Y., 2018. Determination and correlation analysis of mental health influencing factors among ant tribe young intellectuals based on cognitive neuroscience. Neuroquantology. 16(5), 901-906.
[2] Liu, B., Xie, W., Zhang, J.H., Chen, C., 2021. Psychological Influence Factors Analysis of the New Generation Employees' Moral Choices from the Perspective of Cognitive Neurology. International Journal of Mental Health Promotion. 23(4), 589-604.
[3] Costas, A., Grille, I.R., Garcia, G.G., Fernandez, E.J., 2017. Cognition predicts psychosocial functioning and psychological treatment adherence in depressive disorders. European Neuropsychopharmacology. 27, S798-S799.
[4] Xiao, G., 2018. Psychological mechanism of adolescent internet addiction and brain functional imaging. Neuroquantology. 16(5), 915-920.
[5] Yoo, C.W., Sanders, G.L., Cerveny, R.P., 2018. Exploring the influence of flow and psychological ownership on security education, training and awareness effectiveness and security compliance. Decision Support Systems. 108, 107-118.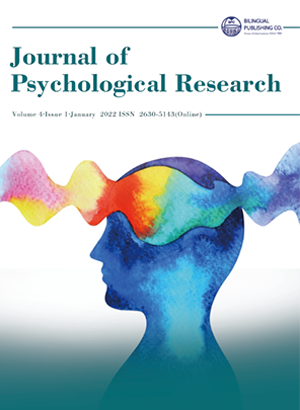 Downloads
How to Cite
Liu, B., & Xie, W. (2022). Outlook of Cognitive Neuroscience. Journal of Psychological Research, 4(1), 8–9. https://doi.org/10.30564/jpr.v4i1.4287
Downloads
Download data is not yet available.