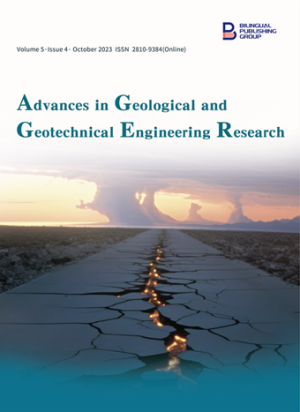 ISSN: 2810-9384 (Online)
Advances in Geological and Geotechnical Engineering Research - formerly Journal of Geological Research is an open access journal. Journal publishes original research papers and publication that freely disseminates research findings in all areas of geology and geotechnical engineering including petrology, mineralogy, Geochemistry, Geotechnics, Geoengineering, Soil mechanics, foundation engineering, geoenvironmental disasters, and more.
The journal focuses on innovative of research methods at all stages and is committed to provide theoretical and practical experience for all these who are involving in these fields.
The scope of the papers in this journal includes :
Petrology
Mineralogy
Geochemistry
Stratigraphy
Deposit Geology
Structural Geology
Hydrogeology
Regional Geology
Sedimentology
Geophysics
Soil Mechanics
Foundation Engineering
Geoengineering
Tunneling Technology
Underground Engineering
Geoenvironmental Disasters
Natural Hazards
Earthquake Geotechnical Engineering
Geotechnical
View All Issues